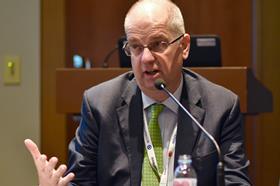 The biggest overhaul of legal services regulation in over a decade comes into force this week – with far-reaching consequences for solicitors.
From today, solicitors will be subject to a revised set of standards and regulations which places greater faith in their professional judgement rather a set of prescribed rules.
For the first time, solicitors are eligible to work for unregulated firms without the need to ask for a waiver. This will also mean solicitors can work as freelancers in a chambers-style set-up, without having to become a sole practitioner. A separate code of conduct for solicitors and firms will help facilitate the change.
City-based Aria Grace Law is one of several firms seeking to employ solicitors without being SRA-regulated (having previously used a waiver to do so). Founder Lindsay Healy told the Gazette: 'As an unregulated firm Aria Grace Law gets better rates for insurance, less compliance costs, and because we do not provide complex regulated services we are not encumbered with office costs needed to provide those services.'
Alan Reid, director of south east company Hybrid Legal, said his business will continue to employ solicitors but remain unregulated. He welcomed today's change, which will mean solicitors working for Hybrid can hold themselves out as solicitors without needing an SRA waiver.
Reid added: 'For us it is all about making legal services more accessible to sectors of business in the UK not well served by the current system. There is a reason why just one in 10 SMEs seek professional advice.'
There remain concerns about client protection, with the SRA requiring freelancers to have 'adequate and appropriate' indemnity insurance.
Nick Gurney-Champion, chair of the Law Society's PII committee, said solicitors should consider the workload, income stream and future career prospects involved with going freelance.
He added: 'The low upfront costs and promise of reduced bureaucracy make the prospect of becoming a freelance solicitor attractive to many, but this new model of practice is not without its challenges.'
For regulated firms, there are new obligations for reporting concerns about employees' conduct. Iain Miller (pictured), regulatory partner at London firm Kingsley Napley, said the SRA considers the evidential threshold for making a report to be relatively low, including where a serious breach is 'possible' or 'indicated'.
'Even if an allegation has not yet been investigated, if it appears cogent, then it is likely it would need to be reported to the SRA,' said Miller.
Also from today, the Solicitors Disciplinary Tribunal will assess conduct cases using the civil rather than criminal standard.