Pioneering Pakistani lawyer and human rights activist Asma Jahangir, who for decades defied death threats and allegations of treason for taking on cases involving women and members of religious minorities, has died at the age of 66. The woman described as a 'fearless voice for the oppressed' died at home of a heart attack, her family said.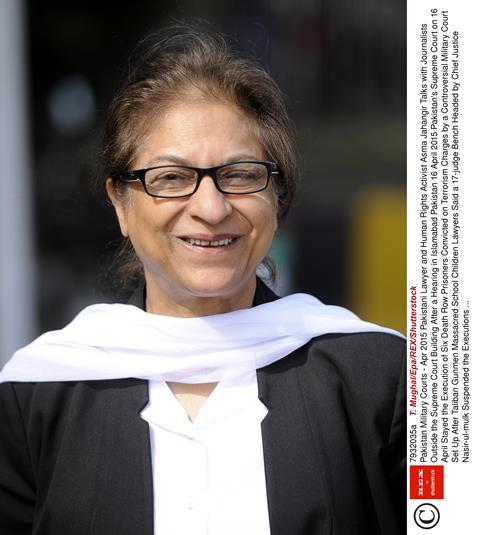 Jahangir was called to the Lahore High Court in 1980 and to the Supreme Court in 1982. She went on to become the first woman to serve as president of the Supreme Court Bar Association. Her victories included litigation to free bonded labourers and a landmark court case that allowed women to marry of their own volition.
She was jailed in 1983 for participating in the Movement for the Restoration of Democracy, which agitated against military dictator Zia ul Haq's regime and put under house arrest in 2007 for her activities on behalf of the Lawyers' Movement.
Saroop Ijaz, a lawyer for Human Rights Watch in Pakistan, summed up Jahangir's achievements: 'At barely 19, she challenged the military dictatorship…and as a result the supreme court declared martial law as illegal for the first time in Pakistan's history. She was the first to oppose the misogynist Hudood laws of the military dictator Gen. Zia-ul-Haq and was promptly imprisoned. She faced threats and an assassination attempt for representing blasphemy law victims but never backed down.
'She almost single handedly transformed human rights from being demonised as a marginal, "Western" agenda to a central part of Pakistan's national conversation, staring down militants, religious fundamentalists, dictators, and corrupt politicians.'
Antonio Guterres, secretary general of the United Nations, said: 'She was a tireless advocate for inalienable rights of all people and for equality whether in her capacity as a Pakistani lawyer in the domestic justice system, as a global civil society activist, or as a special rapporteur. Asma was brilliant, deeply principled, courageous and kind.'
At least 100 lawyers have been murdered in Pakistan since 2001.