Home secretary Priti Patel has denounced 'lefty lawyers' and 'do-gooders' in a speech promising the 'biggest overhaul of our asylum system in decades'.
Speaking at the virtual Conservative party conference, Patel said she would bring in legislation next year to stop 'endless legal claims' from people who are refused asylum.
'For those defending the broken system — the traffickers, the do-gooders, the lefty lawyers, the Labour Party — they are defending the indefensible. And that is something I will never do,' she said. Patel also suggested the government expected to receive legal challenges as a result of the overhaul, saying that those 'well-rehearsed in how to play and profit from the broken system will lecture us on their grand theories about human rights'.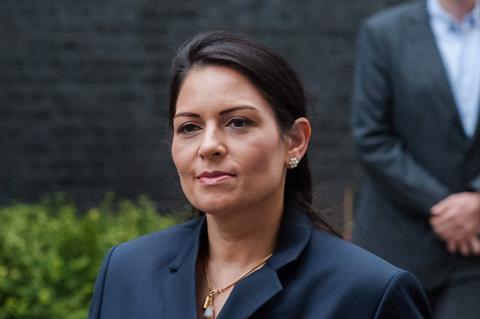 The home secretary concluded that she would endure being 'unpopular on Twitter' in order to bring claims down. 'As Conservatives we don't measure the depth of our compassion in 280 characters on Twitter, but in the actions we take and the choices we make.'
Patel's speech has already sparked fierce criticism from the legal profession. Mark George QC, head of Garden Court North Chambers, tweeted that Patel's choices and actions show her to be filled 'with hate and cruelty'.
'I don't know what in your past causes you to feel and act this way but you shouldn't hold high office, you need help,' he wrote.
Meanwhile, blogger and author the Secret Barrister has changed his Twitter handle to the 'Secret Do-Gooder' in response to Patel's speech.
Amanda Pinto QC, chair of the Bar Council, said: 'Attempting to paint lawyers with the "lefty" brush seeks to demonise the very people helping constituents every day, without agenda, simply because they provide a vital public service. Lawyers carry out their duty and apply the law, irrespective of political persuasion, in accordance with our professional standards.
'Given our duty to the court and our commitment to justice more generally, barristers, as well as solicitors, must do just that. It is not the job of lawyers to limit parliament's own laws in a way that the government of the day finds most favourable to its political agenda. The law, not politics, is what matters to a profession that upholds the rule of law.'
Comments on this article are now closed.