The government is making long-term plans to enable juries to hear trials remotely long after the pandemic is over, it has emerged.
While controversy over the mammoth Police, Crime, Sentencing and Courts Bill has centred around new police powers to manage protests, an impact assessment document for the bill reveals government ambitions to make greater use of technology after emergency coronavirus legislation expires. The bill passed its second reading in the House of Commons last month.
The document states that the Coronavirus Act 2020 is due to expire in March 2022. New legislation would be required to make permanent provision for live links in criminal courts.
The impact assessment says: 'These new provisions will be developed using the learning and experience from the use of the 2020 act provisions, helping to deliver improved measures which give the courts more flexibility around when and how live links can be used now and in the future as technology develops. This would make it possible in the future, for example, for a jury, sitting collectively, to participate in a trial by "live video link" where the court considered this appropriate. Remote participation by a jury would only be considered at the discretion of the trial judge where there is good and sufficient reason to operate in this way.'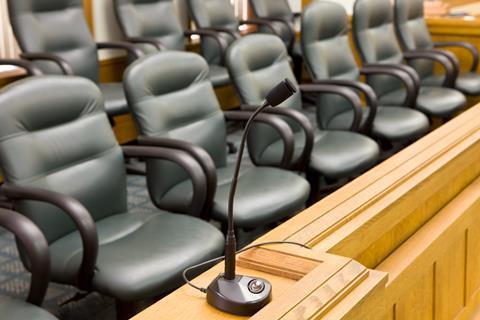 The government may have been inspired in its thinking by work carried out by legal thinktank Justice, which conducted mock jury trials last year as part of an experiment to see if it is possible to hold virtual trials that meet the principles of fairness, accuracy of evidence and certainty.
In the first two trials, participants were in separate locations. In the third trial, the jury remained dispersed. In the final trial, jurors were assembled together in a physical 'jury hub' and the other participants appeared remotely. The defendant appeared via a video link from prison.
The hub was a South London facility which had a reception area, large hall with lots of natural light, kitchen and three unisex toilets. Each juror had two screens on their socially distanced desks, one for viewing the virtual courtroom and the other for viewing trial documents. A four-strong technical team were on site in a separate room.
Justice's report said the fourth virtual trial, with a physical jury hub, was widely considered to be the most successful of all the experiments.