Claimant lawyers should be subject to 'more regulation' to ensure pre-action libel letters to journalists and authors contain 'a greater degree of accuracy and fairness', a lawyer for a leading publisher has told parliament.
Thomas Jarvis, legal director at HarperCollins - which published two books at the centre of allegations about strategic lawsuits against public participation (SLAPPs) – said lawyers representing clients 'seeking to stymie debate' need to be 'more objective' when communicating with defendants.
Jarvis told the House of Lords' Communications and Digital Committee that the language of letters before action could lead to 'a potential fettering of public discussion'. He added: 'I think there needs to be more regulation, that you have a greater responsibility – that, if you are seeking to stymie debate, it is done in a way that [has] an absolute requirement for more accuracy in what is being said and is said in a slightly more objective manner.'
HarperCollins has recently faced two high-profile libel cases, over investigative reporter Catherine Belton's book Putin's People and another in relation to Financial Times journalist Tom Burgis' book Kleptopia. The government has since launched a consultation on potential anti-SLAPP reforms and the Solicitors Regulation Authority has issued guidance which says lawyers 'must ensure that proceedings are pursued properly'.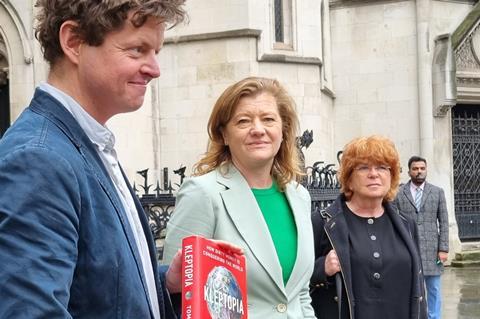 Gill Phillips, legal director at Guardian News and Media, publisher of the Guardian and the Observer – welcomed the updated guidance as a 'big step forward', telling the committee that she had previously considered complaining to the SRA about some pre-action letters but decided that 'life's too short'.
She added: 'The legal proceedings in court are just the tip of the iceberg. There is masses that goes on that you never see that is behind the scenes and some of that could be addressed through the SRA now.'
Caroline Kean, a partner at media firm Wiggin who represented both Belton and Burgis, noted that lawyers are officers of the court, saying: 'We do not have to test whether the words are true, what your client has told you is true.
'But I do think that on some of these cases, where the claimant lawyers are highly intelligent experts in their fields, they must be advising some of these SLAPPs claimants that they do not have a good claim and I do think that if you think that the claim is not good you should not be presenting it as though you think it is good.'
She also called for a 'guillotine' on libel claims involving public interest works so they can be dealt with at an early stage. Judges should have 'the ability to say that "this is a matter of such importance that, I'm sorry, it does not matter if you got it wrong, we have to have the ability to debate it",' she said.
'Obviously, the person who feels that they are wrong should have a right of reply and that should be published fairly, but you should not be requiring the author to … "adopt it",' she added.
This article is now closed for comment.