A libel action at the centre of the debate over strategic lawsuits designed to intimidate critics - so-called SLAPPs - has been settled, publisher HarperCollins announced today. The case was brought by Russian billionaire Roman Abramovich over passages in the book Putin's People, by Catherine Belton, a former Moscow correspondent with the Financial Times.
In a preliminary ruling last month, the High Court in London found that allegations about Abramovich's business activities, including the purchase of Chelsea Football Club, were defamatory at common law. However free speech campaigners denounced the libel claim, one of several brought following the publication of Putin's People, as an example of a SLAPP - a strategic lawsuit against public participation.
HarperCollins today conceded that the book should be amended following the complaint. 'Since publication of the first edition of the book, HarperCollins has been made aware that the book contained some inaccurate information concerning Roman Abramovich,' the statement said. 'HarperCollins has now amended the book to record the position more accurately, and include additional comments from Mr Abramovich's spokesperson.'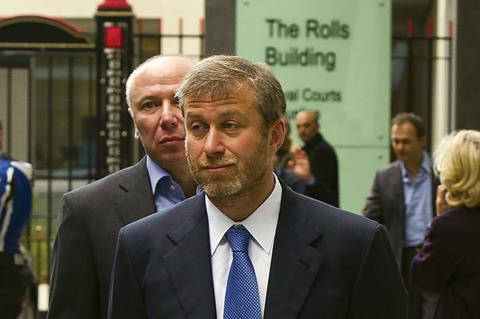 Amendments will include 'a more detailed explanation' of Abramovich's motivations for buying Chelsea Football Club, the statement said. Another change concerns claims by rival oligarch Boris Berezovsky. 'In recognition of this error, HarperCollins has agreed to make a payment to charity,' the statement said.
'HarperCollins and the author apologise that these aspects of the book were not as clear as they would have liked them to have been and are happy to have now clarified the text.'
The statement revealed that the settlement with Abramovich followed agreements over claims by four other Russian oligarchs and the state-controlled oil giant, Rosneft. 'Each of those claims has been resolved with no damages or costs payable by HarperCollins,' the statement said.
The publisher said it 'supports calls made by organisations such as Index on Censorship, English PEN and the Foreign Policy Centre to resist the use of SLAPP lawsuits through the English legal system that quell freedom of speech and deter others from publishing material in the public interest'.
A spokesperson for Abramovich said: 'We welcome that HarperCollins have now made amendments to delete false statements and correct the defamatory allegations.'
Attacking the 'misreporting' of the nature of the claim, the spokesperson continued: 'This book was published, for profit, by one of the world's largest publishing houses. Publishing false, sensational, or defamatory statements about a public person in the pursuit of sales is wrong. HarperCollins should be, and now have been, held to reasonable publishing standards and have ample financial resources to withstand a well-founded legal claim that seeks to correct the record.
'As the objectives of this legal claim have never been punitive, we have not asked for any damages to be paid. We have, however, asked that HarperCollins makes a donation in lieu of damages to a charitable organization, to which they have agreed.'