The government must make clear that people have a right to protest in lockdown, a cross-party parliamentary group has said, claiming the public is currently subject to 'arbitrary or discriminatory decision-making'.
In a report published today, the Joint Committee on Human Rights said frequent changes in the law over the past year has thrown the legality of protest into doubt. 'While leaving the home has always been permitted where there is "reasonable excuse", the same does not obviously apply to the prohibition on gatherings. This has understandably resulted in some believing protest to be completely prohibited,' it said.
'However, a defence of "reasonable excuse" has been available in respect of the offence of breaching lockdown requirements. Under the Human Rights Act this defence must be read compatibly with Articles 10 and 11 and the right to peaceful protest, which means that the regulations have never completely prohibited protests.'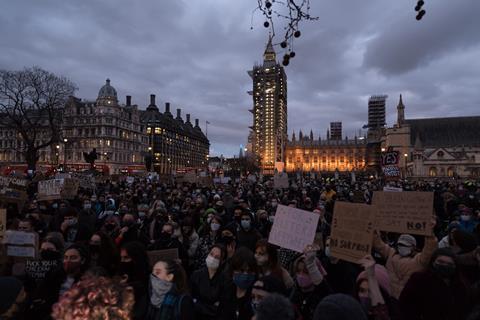 The committee has published draft regulations that would guarantee the right to safely protest in public outdoor places by putting protest on the same footing under lockdown restrictions as picketing and communal worship.
Under lockdown, people are allowed to gather for communal worship in England as long as the 'required precautions' are in place. This is in line with the human right to freedom of religion under Article 9 of the ECHR.
Harriet Harman QC, chair of the joint committee, said: 'The law on the right to protest during the pandemic has been a mess and the right to protest has not been protected. While the government has rightly protected the right to assemble for religion, they have not properly protected the right to protest. The right to protests should have no less protection than the right to religious assembly.'
Harman added that the vigil in Clapham last weekend 'show clearly how the lack of clarity and level of uncertainty in the law is unacceptable and must be remedied as a matter of urgency'.
'This could be done right away as the joint committee on Human Rights has drafted the regulations.'