Dominic Raab's no-show at this weekend's annual bar conference has been described as a 'dereliction of duty' by one criminal barrister after the lord chancellor instead opened a Christmas festival in his constituency.
Bar Council chair Derek Sweeting QC told the conference on Saturday that he has not met Raab since he was appointed lord chancellor in September. 'I very much hope, some two months after he was sworn in, his diary commitments will allow us to meet,' Sweeting said.
Raab is also yet to meet senior figures from the Criminal Bar Association and the leader of the western circuit said he had not responded to an invitation to meet circuit leaders. Kate Brunner QC said it was 'a shame because we'd like to discuss the current crises in listing and retention with him, as well as understand what he's doing to counter the anti-lawyer narrative'.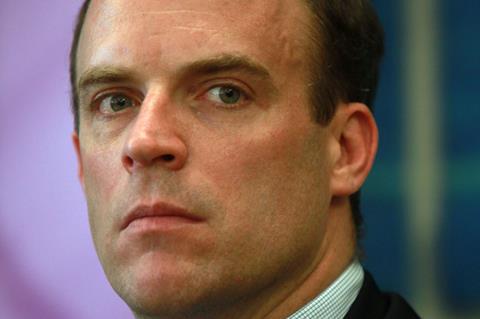 In a short pre-recorded video played to the conference on Saturday, Raab told attendees: 'I'm proud of the work that you're doing, your contribution is invaluable.' He also said: 'The justice system and the rule of law couldn't function without all of your hard work and dedication.'
He later tweeted a picture of himself in his Surrey constituency of Esher and Walton with two women on roller skates – one dressed as a Christmas pudding and the other as a bauble. Raab, an MP since 2010, was re-elected in 2019 but with a reduced majority of 2,743.
Tomas McGarvey, a criminal barrister at 2 Bedford Row, said Raab's decision not to address the conference in person was 'a dereliction of duty'.
Shadow justice secretary David Lammy said: 'This morning I chose to spend my time with our country's barristers at their first physical conference in two years. Dominic Raab was invited but instead [chose] to spend it with a [woman] dressed as a Christmas pudding.'
In his opening remarks, Sweeting also said the government's plans to reduce the backlog by just 7,000 cases, from 60,000 to 53,000 by March 2025, were 'unambitious'. 'It's high time we had an ambition not expressed in terms of size or number of cases … but the length of time it's reasonable to expect people to wait,' he added.
An MoJ spokesperson said: 'The justice secretary was unable to make the event but has engaged with the sector and will continue to do so.'
This article is now closed for comment.