The lord chancellor has finally revealed the new personal injury discount rate after months of deliberations – and the news will come as a setback for insurers.
A statutory instrument will be laid in parliament to change the rate application to PI lump compensation payments to -0.25%. The new rate will come into force on 5 August.
In an announcement to the London Stock Exchange on Friday, it was confirmed that David Gauke would make an announcement today on what deductions should be made from personal injury awards. This followed the statement from March when the market was informed that Gauke would announce the result of the review by August.
The justice secretary said today: 'It is vital victims of life-changing injuries receive the correct compensation - I am certain this is the most balanced and fair approach following an extensive consultation.
'It is also right that the rate is informed by experts and reviewed on a regular basis to make sure this important calculation is accurate every time.'
Gauke told the market the new methodology for setting the rate takes account of actual returns available to investors, actual investments made by investors, allowances for tax, inflation and investment management costs, and wider economic factors. A full statement of reasons explaining the -0.25% rate will be placed in parliament later today, along with an impact assessment.
The rate is currently set at -0.75%, which has been in place since the government changed it from 2.5% in February 2017. That decision prompted an outcry from the insurance industry, which said that the resulting increase in damages would have an immediate effect on premiums.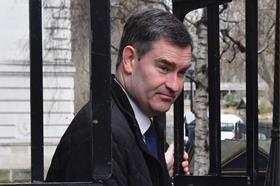 Since then, the Ministry of Justice has legislated to change the way the rate is calculated. The Civil Liability Act required the lord chancellor to conduct a review and determine whether the rate should be changed within 140 days. The government maintains that any changes to the discount rate will be in line with the 100% compensation principle, even though it is now based around 'low-risk' investments, rather than 'very low-risk'.
Some insurers have already realised gains running into hundreds of millions of pounds from what they expected to be a more favourable change to the discount rate. These provisions for future profits will now presumably be trimmed.
The government, in accordance with the new legislative methodology, will review the personal injury discount rate within a five year period following this review, to ensure that it remains fit for purpose in the future. Future reviews will be conducted using an expert panel specifically established for the review.
Gauke also rejected the proposal for dual rates, which would have involved a lower short-term rate, followed by a higher long-term rate after a 'switchover' period. Noting the 'lack of quantity and depth of evidence' required to adopt a dual rate,he added: 'The potential of the dual rate to be appropriate for future reviews is one that I will consider in more detail through a consultation, which the Ministry will launch in due course.'