The Solicitors Benevolent Association (SBA - the Solicitors' Charity) has lost a third of its volunteers since the end of 2015, the Gazette has learned.
The SBA, an independent charity which helps solicitors in serious financial need, is reliant on 'area representatives', who support beneficiaries on a voluntary basis.
However, the number of area representatives has fallen from 90 at the end of 2015 to just 60 today, according to the charity's new CEO Nick Gallagher.
A former volunteer confirmed the change: 'The number of representatives regionally has been very low. For about five years there was only one representative in Derbyshire, Nottinghamshire and Leicestershire,' he said.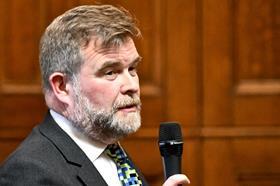 According to the charity's annual reports, donations are also in decline. While subscriptions and donations amounted to more than £200,000 in 2012, they came to less than £100,000 in 2017, the latest figure available.
Gallagher was positive about the organisation's financial position, however. He told the Gazette that donations and subscriptions looked healthy this year and that the charity had a number of 'very strong' investments.