With income down amid waning interest, this is a worrying time for SBA – the Solicitors' Charity. But the organisation's new CEO remains convinced the organisation still has plenty to offer
For 160 years, the Solicitors Benevolent Association (SBA – the Solicitors' Charity) has supported lawyers and their families in times of crisis, providing grants, loans and practical advice.
It was a shock, therefore, when John Amos (not his real name) discovered his monthly allowance from the SBA – which he has received for almost 10 years – had been slashed by more than half.
'Something is changing at the charity and it isn't for the better,' Amos said. 'I am in dire financial straits and it is having an impact on my physical and mental health.
'The SBA is aware of this and yet still I am left hanging. I am struggling to pay the mortgage and have had to seek financial support from my parents who are in their eighties.'
After months of worry, Amos – who suffers from more than 25 health conditions, including depression – persuaded the SBA to increase his award. However, he remains concerned about the state of the charity.
'The SBA has clearly been very generous over the years and I cannot thank it enough. However, I fear it is a worrying time for the SBA.'
Amos's experience could be a symptom of wider troubles at the charity, which has suffered a fall in income in recent years. It relies on volunteers ('area representatives') to provide beneficiaries with practical and emotional support. In the past four years, however, their numbers have plunged by a third, from 90 in 2015 to 60 today.
A former volunteer at the charity confirmed the change. 'The number of representatives regionally has been very low. For about five years there was only one representative in Derbyshire, Nottinghamshire and Leicestershire,' he said.
According to the charity's annual reports, subscriptions and donations have tumbled in recent years, from over £200,000 in 2012 to less than £100,000 in 2017 (the latest figure available). That year also saw the lowest net income (before investment gains and losses) in four years.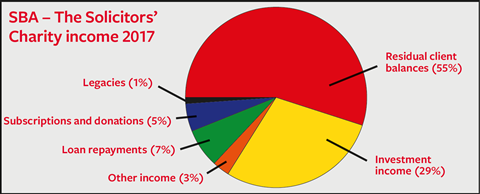 Solicitors' waning interest in the charity is not the only problem. Amos has also been stung by what he says is the charity's growing facelessness. 'My sister died suddenly recently, and despite having dealt with the same people for 10 years I haven't had any messages of condolence,' he said.
Things could be about to change, however. A new chief executive has taken the helm who told the Gazette he is determined to properly restore the bond between the charity and the profession it serves.
Nick Gallagher, who led access to justice charity LawWorks and the Personal Support Unit, took up the CEO post last month, replacing interim incumbent Andrew Jameson. Gallagher is the first permanent SBA head since the February departure of Tim Martin.
'Following interim CEO assignments, I'm excited to take on this permanent role and instil a sustained positive change,' Gallagher said. 'Solicitors could engage better with the SBA and this will be my main focus. We want to involve younger solicitors, even potential solicitors studying at law schools.'
Gallagher also intends to improve the charity's relationship with its volunteers. 'There is a feeling in the organisation that we have not communicated with our area representatives as well as we could have done in the last 18 months,' he said.
To combat this, volunteers will gather with staff and trustees in November to discuss improvements. The charity is rethinking how it trains helpers and is considering a regional peer-to-peer scheme to provide extra support. Gallagher also hinted that volunteers could be assisted by paid professionals.
On the issue of money, Gallagher is upbeat: 'We have a number of strands of income. Donations and subscriptions are looking strong this year. We have some very strong investments. Then, of course, we have bequests and residual client balances from firms.'
Fundraising trails behind other sources of income, however, with solicitors raising less than £1,000 annually for several years. 'This is something I would like to look at,' he added.
'This is an important time for the SBA as we raise awareness of what the charity does for the legal sector,' said the SBA's chair of trustees Matthew Robbins.
Whether the SBA survives another 160 years is impossible to predict – but many solicitors and former solicitors have good reason to hope it is around for decades to come.


Reporter