A solicitor who repeatedly used a relative's blue badge to park closer to work has been struck off the roll.
Wahid Nazari, admitted in 2015, was the primary carer for the legitimate badge holder but used it at least eight times between June and August 2018 for his own purposes. He was convicted at Lewes Crown Court in 2019 of three counts of using a blue badge with intent to deceive and was fined £1,500.
The Solicitors Disciplinary Tribunal heard that the sentencing judge said Nazari had done a 'stupid, stupid thing' and committed the error of 'being lazy and being idle'.
Nazari submitted to the tribunal that he had made an 'honest mistake', but the panel rejected this and found nothing to justify a lesser sanction than a strike-off. The ruling added: 'The blue badge system was designed for the assistance and protection of vulnerable people and Nazari's repeated abuse of that system was a serious matter.'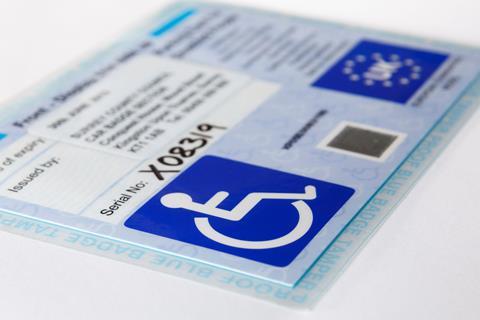 The tribunal heard that Nazari, who represented himself at a two-day hearing, was a solicitor with West Sussex firm Carpenters Limited at the time of the misconduct. He had dropped off his relative in the car and then driven to work and parked near his office.
The SRA, prosecuting, said Nazari knew that the badge was for a specific use and not his personal benefit. On one occasion, he had removed it from his dashboard whilst enforcement officers were in the area and then returned it while they left, showing that he knew he was being deceitful.
He submitted that the offence was unrelated to his professional work and that he had made a 'stupid mistake' but nothing more than that. He denied dishonesty and reminded the tribunal that the SRA initially thought the case could have been dealt with internally.
The tribunal said it saw no distinction between the concepts of deception and dishonesty. It found that Nazari's conduct would be considered dishonest by the standards of ordinary decent people.