The Solicitors Regulation Authority has vowed to prosecute any solicitor or law firm found to be exploiting the immigration system to help clients win asylum when the case does not merit it.
The regulator was responding to the publication of a Daily Mail article alleging that lawyers had advised an undercover reporter to lie to secure UK residence.
The story has reached the attention of prime minister Rishi Sunak, who today accused the Labour Party and a 'subset of lawyers, criminal gangs' of being 'all on the same side, propping up a system of exploitation that profits from getting people to the UK illegally'.
The SRA rarely comments on social media about media reports on solicitors, but said on messaging service X (formerly Twitter): 'We're aware of the recent story in the Daily Mail. If we find evidence that solicitors or firms we regulate have acted in ways that contravene our rules, and in particular their duty to act legally and uphold the law, we can and will take action.'
The Mail's story appears to feature legal advisers being secretly filmed speaking to someone they believed was an economic migrant seeking to stay in the UK.
VP Lingajothy, who is not a practising solicitor but conducted the meeting at the offices of Duncan Ellis Solicitors in south London, appeared to tell an Indian client to say he had been arrested for his political views and tortured in his home country. Lingajothy added that the client should say his family back home had been threatened by people traffickers. He appeared to have anti-depressants available for the client to take with him to prove to an immigration officer he was having suicidal thoughts.
According to the report, Malik Nazar Hayat, from south west London firm Lincoln Lawrence Solicitors, was filmed appearing to tell the reporter to 'create something' about the backstory for an asylum application, suggesting that this should include the police and secret agencies being after him. Hayat appeared to say that the client should claim to be a victim of human trafficking. Asked about his 'hit rate', Hayat answered it was 'above 90%'.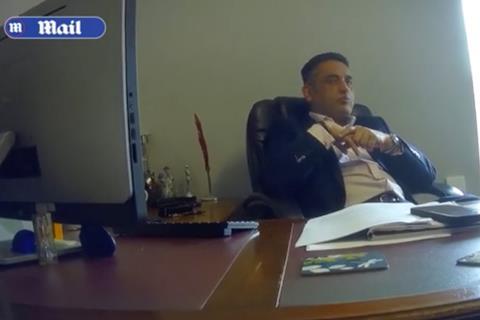 Solicitor Rashid Khan, from south west London firm Rashid and Rashid was filmed apparently telling the reported to 'make something up, bring it to me'.
Duncan Ellis told the Mail that Lingajothy was no longer with the firm and it had reported the matter to the SRA as well as conducting an internal investigation.
Khan said he acted at all times with integrity, honesty and according to his code of conduct.
Lincoln Lawrence told the Mail it took the allegations very seriously and was investigating.
The Gazette has asked all three firms if they wish to make further comment.
The Sunak response provoked a backlash on social media as many commentators questioned whether his comments were appropriate.
Sam Townend KC, vice chair of the Bar Council, said: 'Lawyers are not beyond reproach, and all professions have individuals who commit misconduct and are dishonest.
'Regulators are there to discipline them. The comments by the prime minister, however, are clearly an attempt to play politics with the legal profession. This damaging rhetoric undermines the rule of law, trust in lawyers and confidence in the UK legal system and is to be deplored.'