The Solicitors Regulation Authority spent £3.1m on the unsuccessful prosecution and appeal relating to the Leigh Day case, the regulator admitted today. It has also published correspondence with government departments which reveals the close interest taken by both the Ministry of Defence and Ministry of Justice in the details and progress of the investigation, which concerned the handling of claims by Iraqi civilians against the MoD.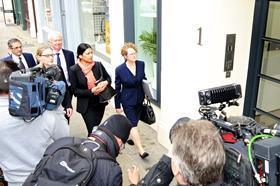 The costs, which include VAT, are broken down by £2.1m for the Solicitors Disciplinary Tribunal and £1m for the subsequent appeal in the High Court. In both sets of proceedings the SRA failed to secure proven verdicts against the human rights firm and three of its solicitors.
The costs are made up of £222,000 for the initial investigation, £1.9m for the SDT and £972,000 for the appeal. The SRA does not provide details of the costs of solicitors and counsel due to 'issues of commercial confidentiality'.
The SRA says the costs are primarily made up of legal fees and 'reflect the complexity and size of the investigation'.
The regulator added today: 'Our disciplinary work is a vital part of our role to make sure we protect the public and maintain trust and confidence in the high professional standards we expect from solicitors and law firms.'
The total spend is the equivalent of around £21 for every practising solicitor in England and Wales.
The regulator has also published some of the correspondence exchanged in the build-up to the tribunal hearing between itself, the Ministry of Defence, the Ministry of Justice and individual MPs. This includes exchanges between the then defence secretary Sir Michael Fallon and Paul Philip, chief executive of the Solicitors Regulation Authority.
Frances Swaine, managing partner of Leigh Day said: 'We welcome this transparency from the SRA with regard to the costs incurred by the regulator in prosecuting us.
'The partial disclosure of correspondence, between the SRA and government, points to the need for the regulator to be truly independent of government, but also to be seen to be truly independent to ensure the trust of the public as well as the profession.'
'Yes, minister' - SRA's Leigh Day correspondence revealed