A prominent Kurdish human rights lawyer shot dead in mysterious circumstances in 2015 was probably hit by a bullet from a police officer's pistol, an investigation by a specialist UK-based team has concluded. Tahir Elçi, chairman of the Diyarbakir Bar Association, was an advocate for human rights in the decades-long conflict in the predominantly Kurdish south-east of the country. He was killed during a press conference outside a mosquein November 2015.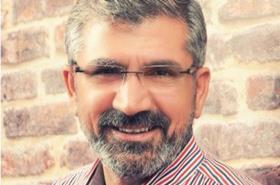 No one has been charged with the killing. Now research by a specialist team at a UK university has concluded that Elçi may have been killed by a shot from a police officer's gun during an exchange of fire between security forces and members of the militant group PKK.
Forensic Architecture, based at Goldsmiths, University of London, was responding to a request by the Diyarbakir Bar Association to examine evidence. The group specialises in investigating violations of human rights by modelling them with 3D graphics and other advanced computer tools.
Its report, published this month, found that as Elçi was speaking to denounce the ongoing violence two policemen were shot and killed in an adjacent street. Two perpetrators ran off in the direction of the press conference, and at least five policemen opened fire. In a little over nine seconds, 40 shots were fired.
Elçi was killed by a single bullet to the back of the head. The fatal bullet was not recovered - one of several shortcomings in the police investigation - but the manner of Elçi's death was reminiscent of previous killings of Kurdish nationalists and human rights advocates by 'unknown perpetrators'.
The Forensic Architecture investigation analysed four videos of the incident, none of which showed Elçi at the moment he was shot. Investigators counted every shot that could be heard during the crucial period, who fired each shot, and in which direction. Visible points of impact were also recorded. The investigation concluded that 26 of the 40 shots were fired by police. Plotting the direction of shots in a 3D computer generated model showed that neither of the PKK militants could have fired the fatal shot, though one of them fired at a police officer, wounding him in the lower abdomen. It also discounted police claims that 'long-range weapons' had been fired from barricades at the end of the street.
Analysing 'cones of fire' revealed that three police officers, identified as A, C and D, had direct lines of fire towards Elçi during the period in which video shows them firing their weapons.
The report concludes: 'It is quite possible that the killing was an unintentional consequence of the firefight. However, the way it unfolded, and Elçi's place within the long history of conflict in that region, make it inevitable that questions and suspicions will always surround the incident.
'A thorough, effective and transparent investigation by the public prosecutor is urgently necessary.'
The Killing of Tahir Elçi: video reconstruction by Forensic Architecture.