Leaders of the US legal profession have defended the judiciary amid an escalating row over President Trump's disparagement of federal prosecutors. In a speech to the midyear conference of the American Bar Association (ABA), Judy Perry Martinez, the association's president called for an end to personal attacks on judges and prosecutors.
In a barely disguised reference to the White House, Martinez said: 'No one, no one, should interfere with the fair administration of justice. And no one, no one, should have to live in fear for following the law and upholding our constitution of the United States.'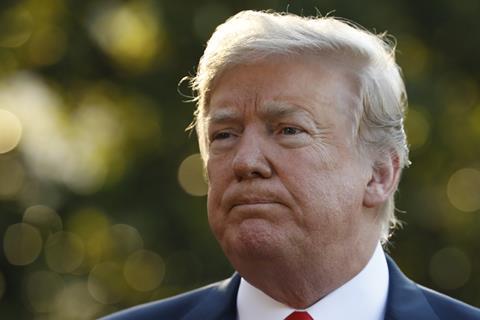 Martinez was speaking amid media reports that the US attorney general, William Barr, is considering resignation after President Trump failed to heed his warning to stop tweeting about justice department cases. Trump, who claims to be the US's 'chief law enforcement officer' has insisted that he has the right to intervene in criminal cases and sidestep the Department of Justice's independence.
Defending what he said is his right to comment on indvidual cases, Trump said this week: 'Social media for me has been very important because it gives me a voice, because I don't get that voice in the press.' His tweets include revealing that he is considering suing those involved in the investigation into allegations of Russian interference in the presidential campaign.
In her speech to representatives of the US's state bars, Martinez asserted that 'Americans of all backgrounds are paying renewed attention to issues of justice. They're talking about due process, evidence, attorney-client privilege, fair trials and just punishment; the imperative of the oath to protect and defend the constitution, no better demonstrated than when lawyers and public servants operating within the framework of law are able to do so free from obstruction, intimidation and retribution.'