On the day that the unsung heroes within the legal aid community are honoured for their work in providing access to justice against a backdrop of cuts, the prime minister has told MPs that caution is required over legal aid provision.
In the latest heated session of Prime Minister's Questions, Labour leader Jeremy Corbyn told Theresa May that this year marked the 70th anniversary of the Legal Aid and Advice Act, which gave everyone access to justice and was an 'essential pillar of a welfare state and a decent society'.
Corbyn said: 'The Tory-Lib Dem coalition slashed legal aid in 2013 and the results are clearly very unfair. The number of law centres and other not-for-profit legal aid providers has more than halved, and there are now legal aid deserts across the country. Does the prime minister think that has helped or hindered the fight against burning injustices?'
Highlighting the government's defeat in the Supreme Court over employment tribunal fees, Corbyn said legal aid cuts had affected people such as a 71-year-old man on pension credit, a leaseholder who is threatened with being evicted. 'Doesn't Marcus, trying to save his own home, deserve legal aid, in order to get proper representation in a court and be fairly heard?,' Corbyn asked.
The prime minister said she recognised the concerns that the pensioner had about taking his case, but pointed out that a quarter of the Ministry of Justice's budget is spent on legal aid.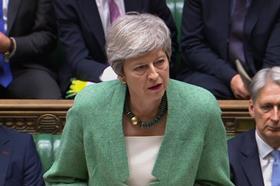 May said: 'We spent £1.6bn on legal aid last year. We are committing to ensuring that people can access the help they need into the future, but that is only one part of the picture. We have published a plan for legal support, to maintain and improve access to support for those in need, and we are conducting a fundamental review of criminal legal aid fee schemes, which will consider criminal legal aid throughout the life cycle of a criminal case.
'So there are aspects of this issue that we are indeed looking at, but it is important that we ensure that we are careful with the provisions we make for legal aid, and as I say, a quarter of the MOJ budget is spent on legal aid.'
Corbyn's question may have been prompted by his appearance last night at an event in parliament to commemorate 70 years of legal aid, organised by shadow justice secretary Richard Burgon and the Society of Labour Lawyers.
Meanwhile more than 400 legal aid lawyers are due to attend the Legal Aid Lawyer of the Year Awards tonight, organised by the Legal Aid Practitioners' Group.