The excessive cost of witness statements risks deterring corporate clients from resolving their disputes in England and Wales, lawyers were warned yesterday.
Bridget Murphy, senior litigation counsel at GE Capital, warned that this jurisdiction could lose out to competition from New York, Singapore and continental Europe if it fails to tackle the problem.
Speaking at an event hosted by City firm Simmons & Simmons as part of London International Disputes Week, she said: 'In GE, like most multi-national corporations, there is always a rigorous debate about where is the best place to resolve disputes, and there is real competition from other jurisdictions. We should not be complacent.
'The key complaint I hear from all my colleagues, particularly those on the continent, is that litigating in England is just too expensive; and in particular, the disclosure process and the witness statement process is too costly. It takes up a significant chunk of the litigation budget, and we often see bills for hundreds of thousands of pounds for that particular item.'
Murphy said that in her personal view, lawyers should follow the Commercial Court's guidance on witness statements more carefully, and avoid 'spinning the facts', or quoting extensively from documents. She added that solicitors should 'avoid the multiple re-drafts', as the more 'finessing and massaging' the witness statement undergoes, the further its credibility is undermined.
Commercial Court judge Mr Justice Andrew Baker, who is involved in a working group currently looking at reform of witness evidence, addressed the conference in a personal capacity. He said that while witness statements could be a useful introduction to the factual case a party would be aiming to prove at trial, he did not read such statements believing them to be the evidence that a witness would actually be capable of giving at trial if called to do so. 'It may surprise you to learn that by in large, the judiciary have a working knowledge and understanding of the research about human memory and its fallibility,' he said.
Baker noted that if witness statements were shortened, this would not necessarily make them less expensive, and parties would still have a 'legitimate' desire to set out a more detailed exposition of their factual case. 'The real question is, does that have to be done somewhat artificially, through the mouth of a witness, rather than in some different form?' he asked.
Updating delegates on the activity of the working group, Baker said it had set up two focus groups to examine the results of a survey it held in November last year, which had received around a thousand responses.
The judge said: 'The working group is willing to contemplate in principle the very radical, so we deliberately included in the survey questions everything from having no witness statements and going back to old school evidence-in-chief, through to, "let's do away with witness evidence at trial and do everything with pre-trial depositions" - and everything in between.'
Baker said the focus groups were about to report back to the main working group, which hoped to publish a first report by the end of July, or in the autumn.
Former costs reformer and Court of Appeal judge Sir Rupert Jackson also addressed the conference, drawing on his own experience to liken any attempt to introduce civil justice changes to 'slaying the Hydra'.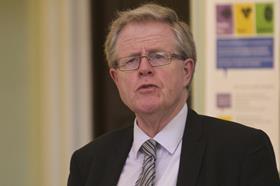 He said: 'As Hercules discovered, the Hydra has a nasty habit of sprouting new heads and biting anyone who attacks it…
'In the field of civil justice reform, two new heads which always spring up are front loading and increased complexity… the critics will pick up the ever-growing White Book, and will say, "look at this huge complexity, we don't want to add more rules".
'You will find the Hydra's head rearing up and glaring down at you.'