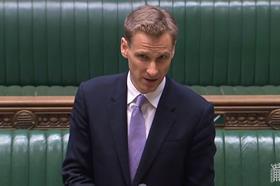 The Ministry of Justice has been accused of 'total failure' to tackle court delays after being told that a 100-year-old alleged victim of fraud is still waiting for justice to be served after four years.
In justice questions yesterday, courts minister Chris Philp (pictured) said the government had responded 'energetically and comprehensively' to helping the courts recover from the pandemic.
However, Alex Davies-Jones, Labour MP for Pontypridd, told the Commons that the government's failure to improve court waiting times was having a 'very real-world cost, no more so than for my 100-year-old constituent whose fraud case against a former carer amounts to more than a quarter of a million pounds'.
Davies-Jones said: 'Despite initiating the case more than four years ago, this elderly woman is still waiting and is unlikely to see justice served in her lifetime. The minister knows about this case as I have written to his department on multiple occasions, but still the delays persist.'
Philp replied that listing of individual cases was a judicial function and that there were sometimes legal reasons why cases get deferred. He added that the court system in Wales was performing particularly well at the moment.
He said: 'Of course, during the pandemic some delays have built up, but in the magistrates' court, for example, about half of the backlog that accumulated due to Covid, which peaked in about August last year, has already been removed. The outstanding case load in the magistrates' court is currently dropping at a rate of around 2,000 a week. I also gently point out that the outstanding case load prior to the pandemic in the Crown court, at 39,000 cases, was considerably lower than the 47,000 cases in 2010.'