Have you been late for court recently? Obiter has noticed that for a profession traditionally focused on (billable) time, the law could be taking better care of legal London's timepieces.
At the time of writing, the elaborate clock on the Royal Courts of Justice has been stuck at 10.34 for days. Facing the RCJ on Bell Yard, the time is forever 8.22, while it is always 4.42 at HSBC, Fleet Street. Near-neighbour St Dunstan-in-the-West is at least making an effort, fundraising for the £85,000 needed to save its 1738 clock (complete with full-size giant figures in loin cloths, pictured).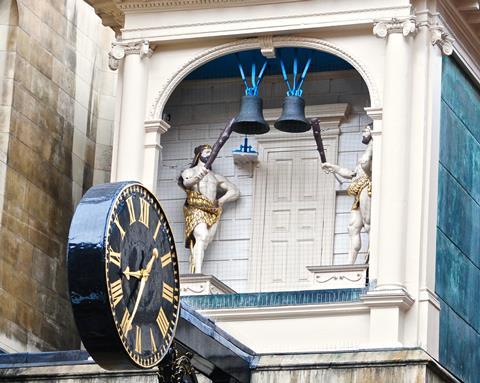 A venerable clock in the Law Society's refurbished entrance hall is currently five minutes fast (it gains a minute a day, we're told, but is regularly set right); and, while the Queen is famously punctual, royal solicitors Farrer & Co greet visitors to their 18th century mansion with a timepiece two minutes slow.
Licensed premises are particularly erratic. The central clock in the Old Bank of England is stuck at just after 12, allegedly the time of the last banking transaction in the hall. Meanwhile in the sawdust bar of Ye Olde Cheshire Cheese the wall clock has been right twice a day, at 10.35, for as long as Obiter has drunk there. (A very long time – editor.)
However, over the road at El Vino, the clock above the bar, traditionally set 15 minutes fast to encourage the timely departure of lawyers and reporters, is now showing the right time following a change in ownership.
The inns, likewise, are punctual. Even with the builders in, Lincoln's Inn Great Hall has the correct time, as do the clocks at Middle Temple and Gray's Inn. City Law School's plastic reception clock must have cost all of £10.99, but is at least right. And anyone who regularly runs for a Thameslink train will know that Peterborough House, the old Telegraph HQ, is reliable. Alas, that's more than can be said for the Telegraph, nowadays.