Obiter reported this week on the curious decision of HM Courts and Tribunals Service to cancel a Gazette reporter's ticket to yesterday's court reforms roadshow. The reason provided was that the event was full and legal professionals were given priority (many have pointed out legal professionals read the Gazette, but we digress).
The event, for reasons not entirely clear, was held at the headquarters of magic circle firm Freshfields in Fleet Street, London, and could accommodate just 90 people.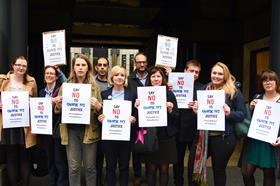 As it turned out, HMCTS comms director Ed Owen admitted that many who registered did not show up, so we could have had a prized place after all. It was clearly unforeseeable that people who could register for free might not attend.
Still, the fuss caused by the exclusion of journalists presented a great opportunity for legal aid lawyers to organise an impromptu protest outside the Fleet Street offices against court closures and fee cuts under the slogan 'Say no to quick fit justice'.
Freshfields staff emerged from the building slightly bemused at this band of good-natured campaigners, while some even chatted to the protestors. Tourists stopped to gawk and take pictures. Clearly such a volatile situation was not going to go unnoticed by the local constabulary, and the City of London Police swiftly dispatched five officers to keep order. No arrests were necessary and the Tasers stayed holstered. Instead, the bobbies and lawyers shared war stories about the effect of government cuts.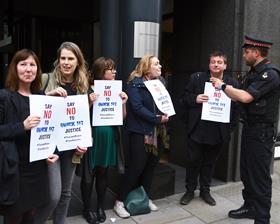 The protest lasted a good hour, but alas not long enough. HMCTS chief executive Susan Acland-Hood later tweeted that someone was sent to bring the group into the meeting, but by then they had gone. Perhaps next time.