While the hangovers (we hope) have long since faded away, the consequences of this month's Champions League final continue to take effect.
No more so than yesterday, when the annual Liverpool legal walk featured one particularly red-faced, and red-shirted, entrant.
Solicitor and legal consultant Steve Cornforth, an Everton fan, made a foolhardy pledge after Liverpool's final win to wear the famous red shirt on the walk if sponsors pledged at least £500. Lawyers in the city duly smashed through the barrier, donating £900 to date, and Cornforth was forced into a Liverpool shirt (complete with '6' on the back) on Tuesday for what was a rainy walk through the city.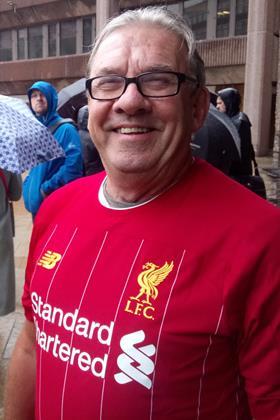 (On that note, Obiter reserves huge praise for the hundreds of legal walkers in both Liverpool and Sheffield, who braved dreadful conditions this week to complete their respective 5km courses.)
Meanwhile, Commercial Litigation Association chairman and Spurs fan Luke Harrison has had extra reason to lament his team's defeat in Madrid.
Harrison, a partner at Hertfordshire firm Debenhams Ottaway, shared on Twitter that he had received a tongue-in-cheek letter before action from his own colleague, a Liverpool fan, over a bet made before the final.
The two-page letter states that despite its best efforts, the firm has been unable to enforce its verbal contract to make payment of £5. Harrison, while pointing out gambling debts are not enforceable, has said he is prepared to pay the debt.
I've just received a letter before action from my own firm @DebenhamsOtt acting for a colleague, a @LFC supporter, with whom I had a better over the @ChampionsLeague final with @SpursOfficial. I've responded to point out that gambling debts are not enforceable but I will pay. pic.twitter.com/oiwOUcd904

— Luke Tucker Harrison (@luketharrison) June 5, 2019