Judging by the atmosphere at this year's Labour conference in Brighton, you'd be forgiven for thinking the party had won the general election back in June. But the outcome, which took away Theresa May's majority, has certainly rejuvenated the opposition, judging by shadow attorney general Shami Chakrabarti's very apparent optimism.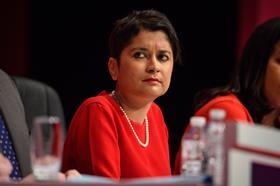 Addressing a 'wellbeing in the legal profession' event, aptly located on the first floor of a pub where the wine was flowing, the former Home Office lawyer waxed lyrical about shadow justice secretary Richard Burgon, 'who will be a wonderful lord chancellor and justice secretary'. Let's hope by the time Burgon is sworn in everyone agrees on how to pronounce his surname (answer: it's not 'burgeon', which Obiter heard at two successive justice-related events).
The biggest praise, however, was reserved for shadow justice minister Gloria De Piero, with Chakrabarti going to town on why the non-lawyer was a 'genius appointment'. Though Obiter is more intrigued at what prompted the pair to laugh so loudly that it stopped Obiter in our conversational tracks.
Perhaps Chakrabarti had just told De Piero she was planning to tell the audience of young lawyers that the next Labour government will put an end to knocking comments about lawyers?
'The wellbeing of this profession will be better without politicians denigrating us. That denigration will stop with the next Labour government,' she said.
Obiter has heard a great many promises at party conferences over the years, but this may be the least plausible yet.