Is Sir James Munby, president of the Family Division, getting a little demob-happy in advance of his retirement next year?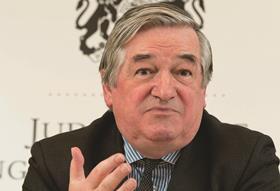 In his latest judicial update, published last week, the learned judge sets out a fearsomely ambitious timetable for reform. Skating a little daringly close to political comment, he also weaves in a dig at the current government's inability to move quickly. 'The lamentable history of procrastination suggests it would be unwise to assume speedy progress,' Munby said of the possibility of law reform.
He later had another pop at the government for rejecting – 'without any adequate explanation for reasons which are unfathomable' – Lord Justice Briggs' 'simple solution' to resolving a jurisdiction issue in relation to certain types of family claim. 'Is it really too late for government to reconsider? Or does the inconvenience of litigants and the administrative burden on HMCTS count for nothing?'
Sadly, it is unlikely that Munby will get an immediate answer in light of election purdah.