Law Society Gazette 7 May 2009
Hunt outlines vision for regulation
The peer tasked by Chancery Lane with reviewing legal regulation says that only 'minor' adjustments to the Law Society's internal governance may be required to yield 'enormous benefit' for the regulation of law firms. Lord Hunt of Wirral wants to see a system ensuring 'parity of esteem' between the representative body and the Solicitors Regulation Authority.
6 May 1999
KPMG moves into law after rival's solicitors offer to set up new firm
Big Five accountants KPMG last week sprung a surprise on the legal profession by setting up a law firm called KLegal from scratch. It became the third of the Big Five to move into law by taking six partners from Arnheim Tite & Lewis, the law firm associated with accountancy rivals PricewaterhouseCoopers. Arthur Andersen was the first to set up a legal arm, with Garretts.
3 May 1989
Green papers: limited support from Society
The Law Society's response underscores the message it has been stressing throughout the green paper campaign: that the unwary housebuyer may be denied independent advice if financial institutions and estate agents provide conveyancing. The Society is firmly opposed to US-style contingency fees but supports the green paper proposal for a modified version of the Scottish 'no win, no fee' system of speculative funding.
9 May 1979
Freedom of information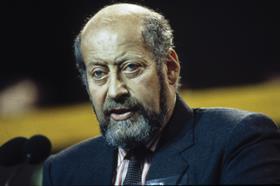 One of the victims of the dissolution of parliament was the private member's Freedom of Information Bill introduced by Clement Freud MP (pictured). But for the dissolution it stood a very good chance of becoming law.