The Law Society Gazette, 21 June 2007
Profession hits back at complaints verdict
The leaders of the solicitors' profession hit back at the legal services ombudsman this week after she branded the Legal Complaints Service's performance as 'still well short of where a modern, customer-focused organisation should be'. In her report, Zahida Manzoor also called on the LCS to start investigating complaints about solicitors' negligence.
18 June 1997
UN to set up world criminal court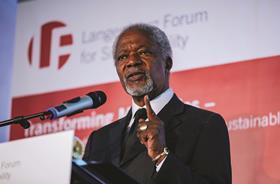 A 'final step towards global justice' will be taken next year with the adoption by the United Nations of a Convention on the Establishment of an International Criminal Court, the UN secretary-general has said. 'The creation of an International Criminal Court will not only complete the vision of the Genocide Convention, it will bring that vision into reality,' Kofi Annan (pictured) said.
17 June 1987
Concern over recruitment crisis
Serious concern over the recruitment crisis facing the profession was voiced at the annual conference of presidents and secretaries of local law societies. The secretary of the Central and South Middlesex Law Society spoke of 'the profession's apparent inability to predict with any accuracy manpower requirements and availability'.
22 June 1977
Consumer law
In oral questions to the house, the minister of state at the Department of Prices and Consumer Protection said that firm proposals for early legislation on estate agents could be expected. Consideration is also being given to empowering local authorities to act as agents. (It is a long forgotten pledge in the Labour manifesto that councils should be enabled to undertake the whole gamut of conveyancing, from estate agency to property transfer.)
June 1957
A solicitor-poet
Frederick William Harvey, whose death was recently announced, won considerable fame as a poet whose work was particularly associated with, and indeed written in the dialect of, his native Gloucestershire. His first volume was written in the trenches of Flanders. His activities in Flanders, were, however, by no means entirely literary, for he was awarded the DCM 'for conspicuous bravery' while leading a patrol in no man's land.