'Thank goodness for the Ministry of Justice!' Not a phrase Obiter hears that often (or indeed at all) among lawyers. But the ministry's building in Petty France, Westminster proved useful for Gazette scribe Monidipa Fouzder (right) as a meeting place for her family after completing the Virgin Money London Marathon last week.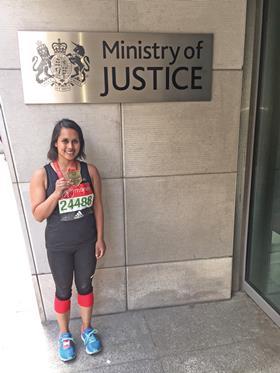 'I was told by the organisers to suggest an alternative, as security measures were likely to mean lots of queues and delays for people trying to get into St James's Park. So I told my family to meet me outside the MoJ building, as I knew there'd be no one there!' she said.
Congratulations to all the solicitors who completed the 26.2-mile feat. Moni's time? 5:21:13. After that, this month's 10-kilometre London Legal Walk will be a walk in the park. Literally.