Brougham, the man from whom I rented rooms when I first set up on my own in the 1960s, was a man of extraordinary contradictions – 'a very difficult, old school, inflexible, cantankerous sort', said his articled clerk, whose duties included bringing him 60 untipped Players a day.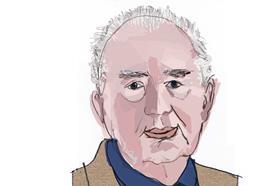 His managing clerk, a cadaverous man named Mee, who had also been Brougham's batman in the war, said his master completely lost it when Chamberlain came back with 'Peace in our time' as he was dying to go off to fight. Worse, Brougham was left on the beaches at Dunkirk and incarcerated for the rest of the war.
It was shortly after the purchase (handled by him) of my client Jackie's launderette – to his horror Jackie brought the purchase price in used notes the night before completion – that Brougham's hand towel disappeared. And it was not just his personal towel; it was one marked with his prisoner of war number from a stalag in Germany where he had been held. Everything had to stop until it was recovered. Indeed, its importance outweighed a Time Summons which Mee had to attend. No matter that if he failed to turn up the claim would be struck out or other sanctions imposed. No one was to leave until the towel was found.
As minutes ticked away and there was no towel, Mee was released and I was summoned. Jackie had been in Brougham's office to hand over the money for the launderette and could have seen the towel and stolen it. I ventured that though Jackie may have been a top-class safebreaker, I doubted the threadbare towel would have been in his sights. I was soon put in my place: 'He might try to sell it to the Imperial War Museum, Morton.'
At that moment came the news carried from Ghent to Aix, so to speak. It had been found among the tea cloths put out for washing. But if I thought Jackie was off the hook, I was wrong. 'I don't trust your clients, Morton,' said Brougham. 'In future make sure they are accompanied the whole time they are in the building.'
James Morton is a writer and former criminal defence solicitor