Once upon a time William Heelis worked as a respected country solicitor at his modest offices in Hawkshead, Cumbria. The building was cold by all accounts, gloomy too, but when a certain Beatrix Potter walked through the door looking for help buying a farm, history was in the making.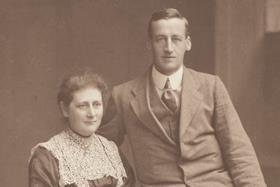 The Lakeland lawyer was to become her husband of 30 years, helping the legendary children's author oversee agricultural holdings and vast tracts of land eventually bequeathed to the National Trust.
While Heelis beavered away at his family's legal practice, she completed her 23 little 'Tale' books, later translated into 35 languages, selling more than 100 million copies.
W Heelis & Son Solicitors was established around 1820 and almost 200 years later the firm is still in practice as Temple Heelis. It is even recruiting at its Kendal office. 'The great outdoors beckon at log-off,' Obiter is told. 'Conveyance by day, then play.'
Any other firms out there with literary connections? Email obiter@lawsociety.org.uk