After the paltry turnout at the SRA's Labour party conference event, Obiter is delighted to report that the Conservative conference repeat showing was rammed. At least, that's what we were told by co-host Bright Blue when we tried to book a seat six days in advance. 'Event at full capacity,' the 'bright' young things assured us. Really?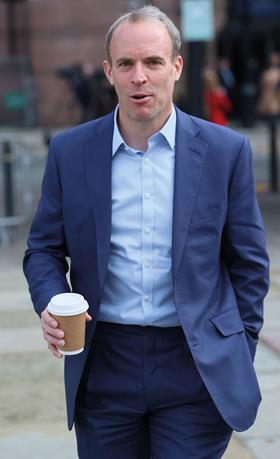 Luckily the theme – the role of the legal sector in levelling up – was mirrored by an excellent event organised by the Law Society, Bar Council, All-Party Parliamentary Group on Legal Aid and LawWorks. But that wasn't the most dramatic event of the week. Obiter was expecting a heated debate at Big Brother Watch's fringe event 'Civil Liberties in a Crisis: Conservatives Against Covid IDs', but wasn't expecting to see a scuffle between a heckler and another audience member. The heckler was seen off the premises.
On to a very packed room and an event organised by the Conservative Welfare Animal Foundation, where the lord chancellor was due to make an appearance. After about an hour, a tie-less Dominic Raab rocked up to say a few words. He left as soon as the speeches were done, clearly heading elsewhere, as Obiter saw him in the hallway putting on a very Lib-Demmy yellow tie.
He sported more sober attire when he took to the podium the following morning for his big speech on human rights. 'We've got to bring an end to this nonsense,' he said, citing the example of a drug dealer convicted of domestic violence claiming the right to family life to avoid deportation. Mmmm. Twitter erupted into a frenzy over to what he was referring. It turned out to be a case from over a decade ago: deportation law has moved on a bit since then.
Next up, Raab sat down with the Spectator editor for his first live interview since taking over the justice brief. Obiter opted not to pay £5 for priority seating and a complimentary G&T (this is the Tory party, old boy), but was able to bag a seat near the front anyway.