Former home secretary John Reid described the immigration system as 'not fit for purpose'. Judging by the way cases are dealt with, it plainly still is not
Immigration has proved a toxic issue for recent Home Office ministers. In 2004 home secretary David Blunkett resigned following revelations that a visa application had been fast-tracked. Immigration minister Beverley Hughes resigned after admitting she 'unwittingly' misled people about a suspected visa 'scam'. Charles Clarke resigned as home secretary in 2006 after intense pressure over the release of foreign prisoners who could have been deported at the end of their custodial term.
Clarke's successor, Jacqui Smith, came under sustained pressure to go when the Home Office was found to have licensed illegal immigrants to work in the security industry. Her successor, John Reid, famously arrived in the post declaring the immigration system 'not fit for purpose'. And all the while, immigration has become an issue of greater concern to the public. Gordon Brown got into trouble for labelling a Labour supporter who raised immigration with him a 'bigoted woman' during the 2010 election campaign. And UKIP's performance in recent council and byelections has rattled both parts of the coalition government – cue, a change in mood music from both David Cameron and Nick Clegg.
It was recently admitted that the UK Border Agency's backlog of immigration decisions – 310,000 – would take 24 years to clear at the present processing rate. UKBA is in the process of being abolished – its functions returned to the Home Office, though a significant role for private contractors remains. While newspaper headlines have focused on the number of people coming to the UK from the EU, somehow conflating the figures with benefit fraud, 'bogus' asylum applications, violent crime and use of the NHS, the public policy response has most often been changes to the rules around economic migration – notably with the introduction of the points-based system (PBS), introduced in stages from 2008, and multiple revisions of the system's guidelines, some introduced with little notice.
That is the unenviable context in which lawyers at the Gazette's roundtable discussion on immigration law have been advising clients. The solicitors paint a picture of a situation where, as policy levers are pulled at the centre, the system on which they seek to deliver shows a deteriorating ability to respond as intended. Gulbenkian Andonian's senior partner, Bernard Andonian, also sits as a part-time immigration judge. He has noticed a drop in the quality of decision-making by both entry clearance officers and in-country decisions by the Home Office. 'Decision-making is poor, very poor,' he says. Some of that is down to document management, he notes: 'So far as entry clearance is concerned, documents are submitted for consideration – but the most important ones are usually returned to the individuals, as there is limited space to retain documents in these places. Then a decision is made based on the retained documents, which is totally wrong.'
Looking at entry clearance appeals, the low number that are upheld show, he says, that 'entry clearance officers have got it wrong, that entry clearance managers have got it wrong'. Entry clearance officers, he adds, allege documents are fraudulent when 'there is no evidence of fraud', a difficulty 'that has to be sorted out at appeal stage, in court'. Errors include Home Office mistakes surrounding nationality, and Andonian has seen the Home Office withdrawing from appeals 'very, very frequently'.
'We definitely have the Cinderella service,' Bindmans' head of immigration Alison Stanley notes. That is evidenced both by the Home Office record in asylum appeals, which are allowed in around a quarter of all cases, 'which in any other department of government would provoke a public outcry', and on decision-making in other cases. The Home Office, she says, 'has the most extraordinary customer service standard'. 'They no longer claim it, but it used to be that a decision was supposed to take 14 weeks in a straightforward case, which is quite a long time.' Now, she says: 'If you ring up before an application is six months-old, you are told you cannot get a decision, cannot talk to someone, shouldn't even bother to make contact – which in effect means that the customer service standard is six months.' And while applications through the points-based system are supposed to proceed more smoothly, Stanley cites client experiences that suggest otherwise.
Philip Trott, head of immigration at Bates Wells Braithwaite, says the 'culture' of the Home Office is partly to blame: 'If you grant a sensitive decision in the Home Office you are vilified by your colleagues.' He notes the experience of a former immigration officer now working in the private legal sector: 'Every time he granted someone asylum, he got a monkey stuck on his desk. And he was called an asylum monkey. The culture is completely wrong. It is not a culture where you are seeking to uphold people's legal rights.' Wesley Gryk, principal of niche immigration firm Wesley Gryk Solicitors, was once legal adviser to the UN High Commissioner for Refugees, adds: 'In the asylum unit, if you're going to grant asylum you need the approval of your superior. If you're going to refuse, you don't need anyone's approval.'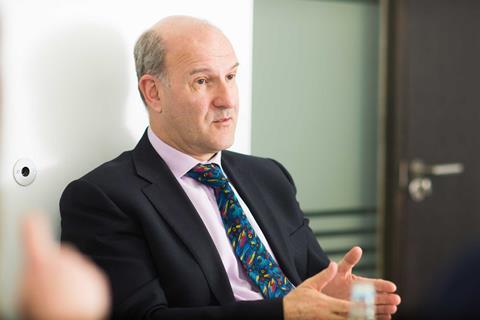 If you grant a sensitive decision in the Home Office you are vilified by your colleagues

Philip Trott, Bates Wells Braithwaite
Officials are also, Stanley suspects, responding to the pressure of a significant backlog: 'Given the backlog in asylum, the temptation to make a decision – any old decision; get it off your desk; cut and paste all the refusal grounds, many of which don't relate to your client; don't have the right country; maybe not even the right gender, but it gets it off your desk and on to the desk of an immigration judge.' This is, she says, 'a pointless waste of public money'. Trott adds: 'I am seeing more and more cases involving refusals on national security cases where decisions are made with the authority of Google. And what you see in the refusal box has been extracted from Google and from no other source. And it has happened three times in the last year for fairly high-profile people.'
Such scenarios have, notes Judith Farbey QC, head of the immigration team at Doughty Street Chambers, thrown up fresh challenges for the immigration tribunal: 'The problem is shifted to the tribunal, and it is interesting to see the tribunal developing almost a theory of common law fairness to deal with these points which should never actually be going to judicial decision.' Nichola Carter, founder of niche immigration firm Carter Thomas, says: 'Whereas there used to be a basic respect for things like the Human Rights Act, European law and the rule of law, many decision-makers have now been trained within the culture of reducing "net migration". They are used to finding ways to refuse applications without taking any account of emotional or "human" factors, or the general principles of fairness and legality.' She adds: 'Then on top of that they've also had to contend with a whole raft of complex changes to the law and guidance and all of that makes it extremely difficult to ensure that decisions are consistently fair and lawful.'
More than one attendee notes that frequent rule changes mean there cannot be any 'build-up of corporate knowledge' among officials from which to draw. Natasha Chell, solicitor at Laura Devine Solicitors, relates: 'Changes are happening every quarter.' Apart from presenting a challenge for legal advisers in keeping up to date, this pace of change is also an issue for caseworkers at UKBA: 'With every application you submit you feel you are teaching the caseworker the current rules and policies.'
Stanley argues that the inaccessibility of caseworkers – once available through known phone numbers – has harmed both the quality of decision-making and customer service. 'What you really want to do is talk to the person making the decision, and in the good old days you could.' She says: 'You absolutely can't now. The argument is that if one gave out the numbers of decision-makers, they would spend all their time answering the phone. But in answering the phone and talking to advisers, they may get the information they need to get a sustainable decision.' The fact that a quarter of decisions are overturned shows, Stanley says, that 'the decisions they make are not sustainable'. 'There are rogue decision-makers out there,' Gryk adds, 'who don't properly know the regulations, and if they get their hands on your application, it could be refused. That happens.'
There is a further issue, Trott notes, around decisions being subcontracted. 'The person who takes on an individual's papers is probably a subcontracted agent,' he notes. 'The subcontracted agent then decides what papers are going to be sent off to UKBA. And the originals may or may not be sent off. Even when the right documents are taken in, I've had experience where the Home Office has refused an application because original documents weren't sent in – but only because the Home Office didn't send them to the decision-maker.'
The result for clients either within, or outside, the points-based system, is an application that has become substantially more difficult to negotiate without legal advice. As Stanley puts it: 'At the moment, I defy anybody to deal with some of the more complicated issues around families, and some bits of PBS, because rules and guidance are just so complex.' Carter concurs: 'As a lawyer it is disheartening to be instructed by an intelligent person who should be able to negotiate an application themselves, but who can't because they haven't been doing this for five years.'
Might such haphazardness, albeit in a fairly blunt way, be fulfilling government aims on lowering net migration? Gryk reflects that it might. 'It plays – all of these difficulties – to the strategy of reducing overall net migration. That means fewer people are able to get here and the government can bring numbers down.'
At the table (pictured, clockwise from left):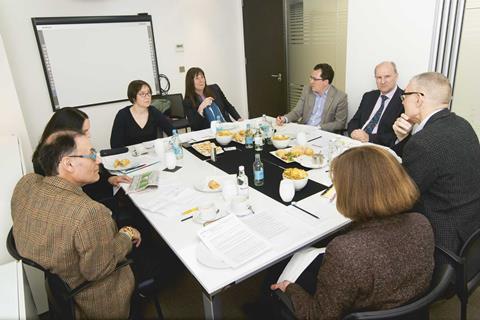 Bernard Andonian, Gulbenkian Andonian; Natasha Chell, Laura Devine Solicitors; Judith Farbey QC, Doughty Street Chambers; Alun Jones, Hugh James; Nichola Carter, Carter Thomas; Eduardo Reyes, Law Society Gazette; Philip Trott, Bates Wells Braithwaite; Wesley Gryk, Wesley Gryk Solicitors; Alison Stanley, Bindmans
Human rights
Gryk says 'the present government is trying to make "human rights" a dirty term in the way the term "asylum seekers" was 10 years ago – implying that human rights protects only criminals and not all of us, British citizens and our families'. But he notes that the Human Rights Act is still very much in play, and is grounds for 'conflict between the executive branch and the judiciary'.
Andonian recalls that the current immigration rules, in force since July 2012, tried to codify article 8 rights – covering respect for private and family life. The aim was that 'if you cannot succeed under immigration rules, you cannot succeed under the Human Rights Act'. But, as case law has since shown, 'the rules were nothing more than statements of executive policy and therefore did not override primary legislation in the Human Rights Act, could not override the decisions of the High Court, and indeed could not override the decisions of the Upper Tribunal'. He adds that it is 'abundantly clear, while the rules are legitimate, they do not deal with the complexities of all human rights issues'. As a result, the tribunal 'has been chipping away at the new rules'.
There is, Farbey notes, 'a huge pull still exerted by the European Convention on Human Rights and from other international obligations'. She points to section 55 of the Borders, Citizenship and Immigration Act, which says that, in taking immigration decisions involving children, the best interests of the child must be of primary concern: 'That's a duty set down in primary legislation and cannot be ousted by the immigration rules. There are a number of levels of law above the rules that are going to constrain what the Home Office can do.'
Our roundtable discussion is taking place on the day of the Queen's speech, where proposed further changes to immigration law were given huge prominence. Announcements included restrictions on free access to the NHS and a duty on landlords to check the immigration status of tenants. Following on from previous changes, and the manner in which attendant rules have been enforced, the speech provokes a strong response from Trott: 'It's manifesting as some kind of fascist state, rather than actually managing migration by consent – which was supposed to be the aim when PBS was introduced.'
He points to the example of one client, a large company. 'A woman who works there is a "level 1" user' and had the temerity to go on holiday. A visiting officer came unannounced and asked where she was. The person on reception said she was on holiday. And in the middle of a public reception area the officer said: "That means you're denying me access." Rather than saying "I'll come back another day".'
Carter, who acts for many education sector clients, recalls another example of UKBA conduct that worries her. 'Last year, eight uniformed border agency staff turned up en masse. Twenty of my client's administrative staff were working and UKBA divided senior management from the junior management and put them in two different rooms.' She adds: 'So junior management were there with no senior management, and they were being asked to show emails, records of students, including non-migrant students – so there were potential serious data protection issues – and, of course, without senior management to guide them as to what they were doing.'
Such experience leads Stanley to reflect: 'Whereas stopping people accessing employment is preventing them doing something unlawful, all that stopping someone taking private rented accommodation is doing is preventing them from paying for a service, pushing them into the arms of Rachman-ite landlords.' She adds: 'I suspect what will happen is that we will have increased passport checks on people who look or sound foreign.' Stanley concludes: 'I think this particular announcement has a very unpleasant smell about it.' Instead, she notes, what is needed is 'research and stability so we can see what the impacts are of the changes that went before, and see if there really is a problem, and where that problem is'.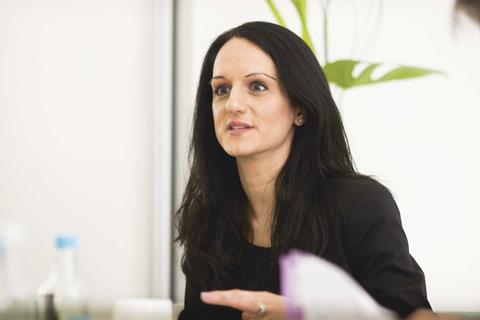 With every application you submit you feel you are teaching the caseworker the current rules and policies

Natasha Chell, Laura Devine Solicitors
Carter would like to see a period of stability and believes that this is as important to the Border Agency staff – 'there must have been at least 16 sets of guidance for tiers 2 and 4 in less than five years'. Without such a change in approach, Trott says unintended outcomes are inevitable: 'What was the benefit of the economic migration changes? Was it to make the UK a better and more prosperous place?'
He concludes: 'Taking away Tier 1 general means that people who thought they may be able to participate in this country in this way no longer can – I mention writers, artists, photographers, also start-up IT entrepreneurs. It means we are a country of temporary migrants; really rich people who are probably not contributing to the wealth of the UK.' All of which, Chell says, means that because immigration rules affect the businesses and overseas students who bring high revenues to the UK, 'the government is biting the hand that feeds it'.
This month's roundtable was kindly hosted by Laura Devine Solicitors