Solicitors are 'key enablers' for serious organised crime – time to be on guard, the Gazette's latest roundtable hears.
Drug smuggling, child exploitation, people trafficking, modern slavery, money laundering, cybercrime, currency counterfeiting and, even, football match fixing are the mainstays that fund the lavish lifestyles of serious and organised criminals in the UK.
It is big business. The National Crime Agency (NCA), which replaced the Serious Organised Crime Agency in 2013, estimates that serious and organised crime costs the economy some £24bn a year.
It is a cancer at the heart of society, causing damage to communities and families. The list of victims is long. Drug addicts burgle homes or mug people on the streets. The sexual exploitation of children leaves a legacy of long-term psychological scarring. Criminal activity, often accompanied by violence, is a deterrent for legitimate businesses. Financial fraud compromises the integrity and stability of one of the country's largest revenue drivers, the financial markets and institutions. And cybercrime, the newest and potentially biggest threat of all, undermines confidence in communication technologies and the ever-expanding online economy.
The proceeds of these crimes need to be laundered – disguised to look like the fruits of legal activities – so that the perpetrators can avoid attracting the attention of law enforcement agencies. The NCA, with its 4,500 officers here and abroad, insists it is fighting back. It has made many arrests and has confiscated millions of pounds of criminals' assets. It has called for 'constant vigilance', for 'systems to be put in place' and is working more closely than ever with law enforcement agencies here and overseas. And now – the primary reason for the Law Society and Home Office jointly organising this roundtable discussion – the NCA is actively seeking the legal profession's support in combating organised crime.
Richard Riley, director of the Home Office's Strategic Centre for Organised Crime, chairs the roundtable and starts the discussion with an overview of the challenges faced by law enforcement agencies. He says that there are 'upwards of 30,000' criminals in 'more than 5,000 groups' involved in serious organised crime in the UK. 'All the intelligence and evidence from the NCA shows that serious organised criminals are agile and entrepreneurial,' Riley says. 'They are flexible. They are unencumbered by things like borders, the law and morality. So serious and organised criminals [can disregard] all the things which we are required to take notice of within government.'
Solicitors are sometimes 'key enablers', he says, in that they can be 'unwitting, negligent or witting' accomplices of the criminals, expediting the transfer of money through their firms' client accounts, and using their legal skills to set up seemingly legitimate companies through which dirty money can be channelled. Lawyers who 'wittingly' work with serious and organised criminals are themselves criminals. They know what they are doing and they are doing it for money. 'But how can we stop lawyers unwittingly getting into serious organised crime?' he asks. He opens the debate to the attendees: 'What are the key areas of vulnerability for the legal profession?'
NCA economic crime command deputy director Nigel Kirby begins: 'This is not just about legal professionals – it's about the financial industry as a whole. Bankers, accountants, company formation agents and so forth.' He endorses Riley's division of professional enablers into three groups. He says: 'There's the actively complicit. There's the negligent and the careless, who probably really don't care, turn a blind eye and are probably committing criminal offences under POCA [the Proceeds of Crime Act] and also some regulatory offences. And then there are the unwitting, who aren't aware of what's happening. Those [minority] that are in the complicit bracket can certainly expect the NCA to be targeting them.'
Solicitor Michael Caplan QC, criminal and regulatory law partner at City firm Kingsley Napley, shares Kirby's concerns. 'It's a question of having systems in place,' he says, 'of being aware and ever-vigilant'. He adds that if one 'avenue of fraud' is closed down, the fraudsters soon find another. 'The reality, of course,' he says, 'is that if a solicitor's office wants to be 100% secure, it's got to lock itself down and do no business – and that's very difficult.'
Magic circle firm Freshfields Bruckhaus Deringer's head of anti-money laundering (AML) Suzie Ogilvie adds a fourth category of offender, one closely related to the 'unwitting'. Ogilvie, who is attending as chair of the Law Society's money laundering taskforce, says: 'You have the people who are perhaps not wilfully blind, [but are] cutting corners.' These are the professionals, she adds, who need 'access to information' so they know what they are looking for and know what to spot. 'One of the things we struggle with in the legal profession,' she says, 'is getting timely access to information. What are the criminals doing now? Where have they found a new loophole?'
Riley asks: 'Who are these people cutting corners?' Steve Wilmott, the Solicitors Regulation Authority's (SRA) director of intelligence and investigations, picks up the gauntlet. There is no typical offender, he says. 'We get individuals who are solicitors in large firms who act within their own [working] environment, so it's not the large firm that is criminal, it is the individual. We also get smaller firms and sole practitioners, and have to deal with all of those, too. I must stress, though, that it is a small minority that is involved in the complicit side of things.'
Wilmott adds that the type of work his team deals with has changed over the years. 'When I first started [he has been with the SRA six years], there was serious mortgage fraud and lots of money going overseas,' says Wilmott. 'Since then, we have done some great work with the Council of Mortgage Lenders and other agencies, and now don't see that much mortgage fraud.'
He goes on to raise the topic of bogus lawyers: 'These are people who say they are lawyers, but are not. They're very sophisticated. They set up bogus websites and steal partners' details, fitting them into their own bogus firm. We get two or three a day, and they create immense damage to the profession in terms of credibility. We have done a lot of work with the City police and the NCA trying to disrupt the people involved in that kind of activity.'
Kingsley Napley's Caplan interjects: 'Bogus lawyers pose a real problem that takes a lot of time and energy to sort out, not to mention fielding the concerned telephone calls that you get from the bank.'
Tony Guise, director of commercial litigation and regulatory firm Guise Solicitors, based in the City, asks whether much is being done to stop bogus firms abusing the Law Society's 'Find a Solicitor' website. Wilmott is quick to reassure him. 'When mortgage fraud occurred five or six years ago, our defences were down in terms of vetting people,' he says. 'We would give practising certificates to unqualified people who had forged their qualifications. But that doesn't happen anymore.' The SRA has got better at 'policing the perimeter', he says, and it is 'two years' since an unauthorised person gained access to the website.
Head of New Scotland Yard's proceeds of corruption unit, Jonathan Benton, steers the debate towards due diligence and suggests there is a 'cultural' difference between how banks and the legal profession approach it. 'You commonly see banks spending £30,000 or £40,000 on due diligence,' Benton says. But this had not always been the case. The banks have learned to dig deep, find out what the accounts looked like 'five years ago' and to continue investing in 'ongoing due diligence'. Lawyers have not yet embraced the same rigorous approach, Benton claims. When his unit finally gets through the 'legal professional privilege layers of a solicitor's files', he says, it often sees that someone has managed to build up a client relationship with the firm without two crucial questions being answered: 'Who are we really dealing with? Do we really know who the customer is?'
Highlighting the difficulty for the profession, Ogilvie says: 'You have to distinguish between firms like Freshfields that actually have the money and resources to spend £30,000-£40,000 on due diligence and the very, very small firms who would be put out of business completely by spending that sort of money. You can't say that we should act in the same way as the banks, because banks are huge financial international institutions. The legal profession has such a disparate membership. We have one-partner firms and then you have the likes of Freshfields, with 450 partners across the globe.'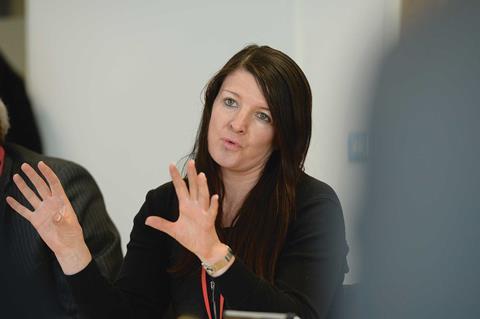 One of the things we struggle with in the legal profession is getting timely access to information. What are the criminals doing now? Where have they found a new loophole?

Suzie Ogilvie, Freshfields Bruckhaus Deringer
Gazette features editor Eduardo Reyes keeps the debate's focus on the banking sector. 'I wonder if there is an over-dependence on the part of some lawyers on the banks,' he says. 'The bank is normally not your ultimate client, but it can feel like it is. After all, the work's coming to you because of [say] Barclays or Standard Chartered, who you've learned to trust. That's where the relationship is.'
Ogilvie responds that the banks can contribute to what she calls 'reputation laundering'. By this she means that an existing client of a bank can introduce another to it, giving rise to the assumption that the second person must be trustworthy because the first person has an unblemished record. 'I don't build anything on sand,' Ogilvie says, 'so end of story – Freshfields looks deeper. But do all firms have the resources to dig beneath the surface? It comes back to resources and the size of the firm.'
The NCA's Kirby says that a 'reasonable' layer of due diligence in relation to the matter in hand is all that it is required. He instances a £100,000 house purchase in contrast to a £30m purchase of a jet aircraft. 'It's about the money you expect to make at the end of the day,' he says. 'Clearly, you're not going to take something on that's going to cost you £30,000 (in due diligence) when all you're going to make is £300. I exaggerate to make a point.'
International firm Kirkland & Ellis partner Satnam Tumani says that after 20 years prosecuting serious crime and frauds, he can confirm that the types of crime facilitated by professionals come in 'many different colours'. He says: 'They do change. Every four or five years, you have whatever is in vogue at that particular time. The difficulty in the legal profession is the intersection between the architecture around which financial transactions and structures are set up and the point where the money goes in and out.'
Tumani continues that the reason not to get 'hung up' on systems and controls reverts back to the point Ogilvie made earlier in the debate, namely that fraudsters' methods are constantly changing and so lawyers need easy access to information telling them what to look out for. 'All of the systems and controls that inform any firm's financial crime compliance should be based on risk analysis or risk perception.' If you've got people with a 'very busy day job', he says, without the time to access readily available types of information, such as 'case studies' on those crimes that are in vogue, then mistakes will be made.
'The policy that's made at the outset is the most important one,' says Tumani, 'because it's risk-based and because it relies on professionals exercising their judgment in the unwitting facilitators' category – the people you really need to get to. Developing the pipeline that allows the law enforcement and intelligence side of the community to put out data to inform professionals about new risks is the only sure way to make this work.'
Serious Fraud Office (SFO) general counsel Alun Milford agrees that the techniques of fraud 'shift with whatever the current vulnerabilities are'. However, he adds: 'I think techniques in money laundering are quite consistent. The SFO experiences a certain kind of money laundering because we deal with a particularly ambitious kind of fraudster. However they get hold of the money, they want ultimately to retain control of it. So, in case after case, we see corporate or trust ownerships distancing (the fraudsters) from the money.
'We see the use of offshore jurisdictions, some more exotic than others, and we see lawyers being asked to help establish the necessary systems and structures. Lawyers are attractive to the people we deal with for a number of reasons. Firstly, they are good at what they do. They understand how to form companies and trusts, and they do it well. Secondly, lawyers provide a veneer of respectability to people who might invest in those assets if you've got a lawyer fronting them up. There is an assumption that somehow the entity you're dealing with is respectable and you can safely deal with it.'
He continues: 'Thirdly, it's about [legal professional] privilege. It's important for the legal profession. And the idea that you are entering into a relationship that is entirely confidential is plainly attractive to people who want to be secretive about what it is they're doing.'
Riley asks the NCA's Kirby what information law enforcement or the state can give solicitors to help them reassess their systems and procedures. Kirby, alluding to the NCA's four Ps strategy – pursuit, prevent, protect and prepare – to counter the national security risk that money laundering comprises, responds: 'We are interested in pursuing those that are complicit at the top end, that we have serious criminal charges to bring against.' He adds that this 'pursuit' is strengthened by 'two-way information sharing' with the SRA and others in the industry to help identify who the NCA should be pursuing. He says: 'That's our criminal intelligence sharing.' The other information sharing that the NCA does, he says, is sharing what will be useful in a 'prevent' campaign. That is, what is legally shareable and can help alert law firms to current and upcoming risks.
Guise, while agreeing with Kirby, draws attention to escrow accounts, which might be 'absolutely tickety-boo', or which might see millions of pounds of unexplained funds passing through them. Guise adds: 'Most solicitors are now aware of the need to carry out identity checks, but are less aware of the obligation to undertake continued due diligence, both from time to time and when particular events occur. It is a question of deep due diligence, as it were.'
Caplan agrees. 'You have to keep due diligence under review all the time and that comes down to education.' Scott Devine, the Law Society's AML policy adviser, says that the Society's AML role is primarily education and training. 'We have many sources of advice open to the profession,' says Devine. 'The NCA in the middle of last year commented that the legal profession has more information available to its members that any other. On an international level, we've collaborated with other law societies around the world and last year produced a report looking into the vulnerabilities. We worked with the American Bar Association, the International Bar Association and the Council of Bars and Law Societies of Europe, coming up with a report looking across the whole globe. It helps lawyers understand the red flags and what to do once they have recognised them. The role of education cannot be understated here.'
The roundtable debate begins to draw to a close. Caplan says: 'The mere fact of having this discussion around the table is invaluable. You [the SRA, Home Office, NCA, SFO and Metropolitan police] have heard what we firms have to say, we have heard what you have to say.' New Scotland Yard's Benton says that when he enters a firm to arrest a lawyer it can be strikingly obvious that everyone else in the firm knows who he is after.
Reyes takes a new tack. 'We've focused inevitably on systems and compliance, but nobody's mentioned professional ethics. Have they been absent from the discussion for a reason?' The SFO's Milford replies: 'If you're going to be complicit in money laundering, you've left your ethics at the table.' Caplan adds: 'The bottom line is, as solicitors we simply cannot take our eye off the ball when it comes to AML issues – and that's a professional ethics point really.'
Owen Rowland, head of the prevent, protect and prepare unit at the Home Office's Strategic Centre for Organised Crime, summarises progress achieved so far. A national risk assessment on money laundering is to be published before the end of the financial year, he says, and the government is committed to producing a money laundering action plan next year. Work is also to be carried out on tackling domestic AML and counter-terrorism financing issues, he adds.
Riley wraps it up. 'Given the unbelievable ingenuity of the criminal to keep one, two, even three steps ahead of the government,' he concludes, we need 'constant vigilance', we must be 'much more agile' and we need to become 'anticipatory'. He ends: 'The criminals are really good at this and the government, frankly, is not good at spotting where the next big threat is coming from. So the challenge for us is to spot future threats before – not after – they spike.'G