For women in professional services, it can be difficult not to feel cynical. Despite the strides made over the past few years, we are faced with the reality that a glass ceiling still hangs above many women in the legal profession.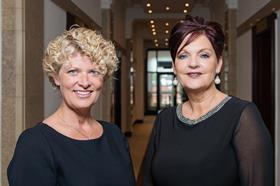 With a combined 60 years of experience in our specialist fields, we are all too familiar with the issues that stem from ill-informed perceptions surrounding age and maternity leave. This invisible barrier and a united belief that talent should not be hampered by the usual world of traditional partnerships drove us to found our own boutique firm, Adkirk Law.
Despite sailing through the turbulent waters of the pandemic at such an early age, we are proud to have gone from strength to strength since our inception in 2019. The broad spectrum of our legal advice offering – encompassing business fraud; professional and healthcare regulation; and all types of residential conveyancing – provided us with resilience through the pandemic and allowed us to weather the storm. For example, whilst conveyancing was initially hampered by the first lockdown (despite the fact that the phone was ringing off the hook with questions from nervous clients) our fraud practice saw us safely to shore. Now, both practices are flourishing and we are on track for sustainable growth over the next three years.
Of course, our growth is testament to the hard work and talent of the team around us. We strive to provide transparent and bespoke services for all our clients, acting with integrity, and believe our team members should be celebrated, for their talent and for what their hard work has achieved. Building a culture where we invest in development has been a key sticking point since our inception. From sending staff on knowledge building courses based on personal interests, to adhoc gifts of a bottle of prosecco to take home on a Friday, to annual internal strategy days – it all adds up. Culture is essentially a war of attrition, requiring continuous effort, but it's worth every moment. All the productivity studies or staff turnover statistics in the world could fall away, and we would still know that to be true.
That's not to say coming from corporate law to your own boutique firm is without its shocks and steep learning curves. Some – say, the management of the stationary cupboard, for one – are easier to overcome than others. The mechanics of running a business are a new step no matter how qualified you may be in your own practice. Yet, whatever direction challenges come from, all can be met without too much difficulty if you are working in partnership with those who share the same fundamentals of business.
Much is being said about the rising stock of shared values in the workplace at the moment, particularly with the talent wars being felt as acutely as they are. Shared vision gives you that breathing room to take a holistic view of your firm's own culture and team. Let Adkirk Law be a lesson – it works.
Rachel Adamson and Linda Kirk are co-founders and directors at Adkirk Law