The review of governance of the Law Society of England and Wales took a step forward yesterday with the organisation's governing council approval of the appointment of Robert Bourns as chair of the new board following a wide-ranging recruitment process.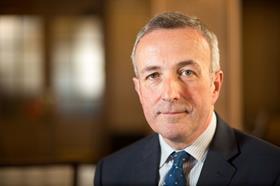 Bourns has been a council member since 2011 and was president in the year to July 2017. Prior to his work at Chancery Lane he was president of the Bristol Law Society.
Current president Joe Egan said: 'I welcome Robert into the new role. Having worked with him in the office holder team, I am delighted with the appointment. As has already been announced, the new board represents a significant streamlining of existing structures for the professional body for solicitors.'
The board will start work in the new year. As well as Bourns, the board will include the Law Society office holders, five other council members elected by council, two appointed solicitor members who are not council members and up to two appointed lay members. The chief executive and executive director of delivery and performance will be non-voting board members.
Bourns said: 'I'm excited to be taking this crucial role and look forward to working with council, office holders and the executive as they continue to modernise the Law Society – building on its excellent work and creating an offer to its members that will serve the solicitor profession and public alike.'
Changes to the structures of Law Society governance also include two new committees: Policy and Regulatory Committee; and Membership and Operations Committee.
Bourns read law at Cardiff University and was admitted as a solicitor in 1980 after completing his articles at Osborne Clarke in Bristol. He started life as a criminal lawyer and, three years after qualification, was headhunted by another local firm which had seen him in action as an advocate. That firm, Trump and Partners, merged several times to form what is now TLT.
He rose to managing partner of Trump and Partners and managing partner of TLT post-merger (until 2002). From 2002 until 2015 he was senior partner of the firm as it went national, expanding to some 1,000 employees and 100 partners. He stood down as senior partner in order to take up the role as president of the Law Society (2016-2017). After the close of his presidential year he returned to work as a partner at TLT.