Leading figures in the profession today highlighted to MPs the extent of work that is carried out by practitioners to prevent miscarriages of justice - including trawling through 17,000 pages of material disclosed to the defence on the first day of a trial.
The Commons justice select committee questioned Law Society president Joe Egan, Daniel Bonich, vice-chair or the Criminal Law Solicitors' Association, Criminal Bar Association chair Angela Rafferty QC and Joanna Hardy, a barrister at Red Lion Chambers in London, as part of its inquiry into the disclosure of evidence in criminal cases.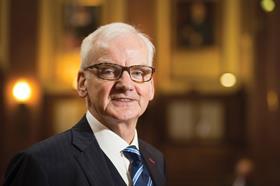 Egan told the committee, chaired by Bob Neill MP, that practitioners are paid a fee fixed at a time 'when there was not anything like the amount of unused material there is now'. Hardy, who represents many young people, highlighted the amount of potential evidence that can be obtained from a client's mobile phone. 'Their phones will tell you what time they woke up because they have got an alarm app. [The phone] will tell you what they had for breakfast because they have got a health app. A taxi app will show you what time they left. There is information you can see that might be relevant in different types of offending.'
Bonich recalled a recent case where the defence was served with 17,000 pages of material on the first day of the trial.
Rafferty acknowledged that every profession has a degree of unpaid work, 'but there does reach a point where it's completely unviable. You come home [in the evening] and you know you have to look at thousands of pages of material'.
When asked whether the disclosure problems are an issue of resource or culture, Hardy replied: 'I do not have any experience of any officer who I think wants their case to be vulnerable to an appeal. The errors I see, prosecuting and defending, are more down to the lack of resources.'
However, Rafferty said there was a 'fundamental problem in the police as to the purpose of disclosure', adding that there is a 'culture of mistrust' with disclosure schedules. 'We approach it, as defenders, with a degree of suspicion,' she said.
To avoid disclosure issues, Egan stressed the need for a mechanism that enables early cooperation between the defence and prosecution. Bonich urged the Crown Prosecution Service 'to go back to basics and have a healthy amount of scepticism to everything [put] before it'. Hardy said it was in everyone's interests that data from mobile phones are downloaded as quickly as possible. 'The speed of download would speed up the system enormously,' she said, noting that practitioners often have to wait while handsets are sent off to be processed.