Labour MP David Lammy has taken over this week's Criminal Bar Association update to once again bemoan the lack of diversity within the judiciary.
Over a year after publishing the findings of his government-commissioned review into potential race bias in the criminal justice system, Lammy said that issues of trust with BAME communities are not just relevant to the police but to those who hold the 'highest positions of legal authority'.
BAME judges make up 3% of the High Court and 4% of the circuit bench. There are no BAME judges in the Supreme Court.
Lammy said: 'For too long, the judiciary have treated its eligible pool as the scapegoat for its homogeneity. Racial diversity, it seems, supplants appointment by merit. However, trading off racial diversity and meritocracy is not only implicitly prejudicial, but is a palpably deceitful way to hinder reform.
'Of course we should always look for ways to diversify the legal profession, but this simply cannot explain everything. That's because BAME people are already in the system. The problem is that they disproportionately drop off at every stage of the application process. There are talented, BAME, legal professionals, but they are becoming increasing invisible to those at the top of the recruitment hierarchy. 20% of solicitors and 13% of practising barristers are BAME - why aren't these figures reflected in the judiciary?'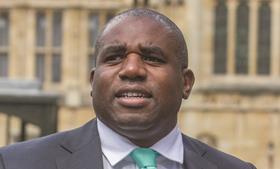 Lammy met the lord chief justice a fortnight ago and was told that, 'despite searching high and low for an explanation, the Judicial Appointments Commission simply cannot find one, at least not one that is obvious, for the lack of BAME judicial representation'.
The reason explanation was 'strikingly evident', Lammy said. If there is no explanation, 'what is happening is discriminatory practice'.
He added: 'This grounds my message today, a message that requires uncomfortable reflection. Discrimination is not exhaustively conscious or deliberate. Invisibly generated but very visibly endured, prejudice is often the consequence of unconscious and implicit bias. However, the moment we deny our responsibility to redesign the very institutions that engender these racial biases is the moment that we refuse to overcome them.'
The Tottenham MP told the House of Commons justice select committee last month that the judiciary would be more diverse today if judges were selected with the 'old tap on the shoulder' system.