The UK's best selling tabloid newspaper today publishes what it says is a whistle-blower's account of a 'factory' set up to encourage false claims against the Ministry of Defence over the behaviour of British forces in Iraq. Human rights firm Leigh Day, which was last year cleared of charges relating to Iraq claims, denied any allegation that it knew claims to be false.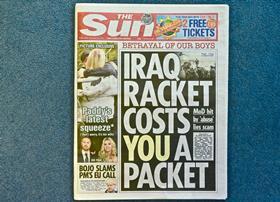 According to the Sun, Iraqi refugee Basim Al-Sadoon said he ran an office in Basra handling exaggerated claims based on faked paperwork. The newspaper quotes him as saying: 'It was a racket, all of it. All these people cared about was money. It was like a claims factory and it didn't matter if the claims were true or false.'
Al-Sadoon said he was employed by Mazin Younis, who had acted as a middle-man for Leigh Day and the now-closed Public Interest Lawyers. The newspaper quotes Younis as saying: 'These allegations are false. Iraqi claimants who came via Mr Al-Sadoon were referred to Leigh Day if they had supporting evidence. Leigh Day would have then called or met the claiments to ensure the authenticity.'
Leigh Day said in a statement: 'We take the allegations in today's Sun newspaper extremely seriously and we would urge the newspaper to make any evidence it has to support them available to the MoD and to ourselves as a matter of urgency.
'The claims in question have not proceeded past the early procedural stage and are now being reviewed with all other cases following the High Court judgment in December, which found that British troops had beaten, abused and unlawfully detained Iraqi civilians.
'Leigh Day vehemently denies any allegation that it knew any claims to be false or encouraged false claims at any time.'
The Sun's front-page article appears as the High Court considers an appeal lodged by the Solicitors Regulation Authority against the Solicitors Disciplinary Tribunal decision in June to clear the firm and three solicitors of 19 charges of professional misconduct related to Iraq claims.
The newspaper quotes Al-Sadoon, who now lives in Denmark, saying: 'It's the British legal sy­stem's fault for making it so easy. The orders were to look for cases and collect as many as possible against the MoD.'