The lord chancellor has until next Thursday to allay MPs' concerns that recorders are being told there will be 'limited opportunities' for them to hear Crown court cases due to budget constraints.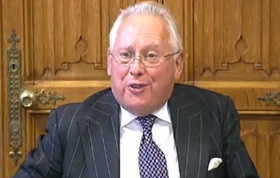 Conservative MP Bob Neill, chair of the House of Commons justice select committee, has written to David Gauke, asking him to confirm if such letters, revealed by the Criminal Bar Association (CBA) earlier this month, have been sent and, if so, whether they were sent by HM Courts & Tribunals Service.
Neill wants to know if letters have been sent to recorders across the country or whether the issue is confined to certain circuits. Gauke is also asked to clarify what the position is for recorders who are unable to complete the mandatory number of sitting days through no fault of their own.
Chris Henley QC, chair of the CBA, said in his weekly update that 'severe budgetary constraints' was the reason given to recorders who would struggle to complete the mandatory number of sitting days.
Henley said courtrooms 'are now "dark", not because there isn't work to occupty them, but because the government refuses to fund them. This is why over and over again you are being hit by fixed trials taken out at the last minute and re-fixed months down the line'.
A spokesperson for HMCTS told the Gazette that recorders are deployed according to demand in the Crown courts. 'The number of sittings has reduced as the number of cases has gone down in recent years. Sitting days are agreed annually, and are regularly reviewed so that each recorder meets their minimum sitting requirements,' the spokeperson said.
HMCTS pointed out that listings is a judicial function.
Last week, in the House of Commons, justice minister Lucy Frazer was quizzed about 'floating' trials after Conservative MP Philip Hollobone pointed out that the number of trials listed at Northampton Crown Court without a firm date has risen from 10% to 23% over the last eight years.
Frazer said that she held a roundtable a few weeks ago with the judiciary, listings officers, Bar Council, Criminal Bar Association and the Law Society to 'solve this issue'.
A spokesperson for the judiciary told the Gazette that trials have been listed as 'floating' for many years to ensure court business is efficiently dispatched for the benefit of defendants and witnesses.
The spokesperson added: 'They are back-up trials. This concept requires an assessment of the likelihood of other trials, which have been listed, going short whether by plea or earlier resolution than previously estimated; or the "floating" trial itself going short. This assessment is carried out by experienced listing officers and discussed as appropriate with relevant judiciary. On occasions there will be unforeseen circumstances which will prevent the "floating" trial being reached.'