Computer programmers and legal experts joined forces over the weekend to attempt to create an online justice system from scratch.
Teams from law firms, universities and technology companies had less than 24 hours to design and build IT tools to support online courts – with the overarching aim of improving access to legal advice and promoting open justice.
The event, dubbed Hackathon, was organised by Legal Geek, online courts pioneer Richard Susskind, the Society for Computer and Law, the Judiciary of England and Wales, and HM Courts & Tribunals Service. It was hosted by the University of Law.
The 216 participants were from law firms, universities and technology companies. Each team included lawyers/law students, coders and designers.
Some were joint efforts by law firms and technology companies – Peppermint and Debenhams Ottaway – and universities – Swansea University and Mishcon de Reya.
After introductions from Legal Geek's Jimmy Vestbirk, Jill Howell Williams from the University of Law, Susan Acland-Hood, chief executive of Her Majesty's Courts and Tribunals Service, and the Honorable Mr Justice Birss, a high court judge at the Royal Courts of Justice (and former computer programmer), participants were given eight challenges.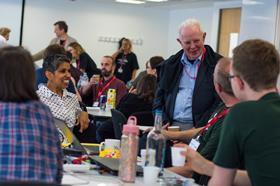 These included dealing with form filling (more accessible court documents), order drafting (that courts are more likely to accept) and bundles.
The teams worked through to Sunday morning, when after three preliminary rounds, nine finalists were selected to present their solutions. These focused on making it easier for ordinary people to navigate the justice system, and reducing the burden on the courts by facilitating mediation and early resolution.
The underlying technology included algorithms and machine learning to create prediction engines and deliver scalability, and natural language processing across multiple platforms and visualisation and voice interface to promote accessibility and user-friendliness.
Lord chief justice Lord Thomas presented the prizes. The winner was Wavelength Law/The Law Society team's creation, Colin, a legal assistant for the Amazon Echo. As well as Wavelength's legal engineers, the team included Gazette lawtech columnist Peter Wright, chair of the Law Society's technology & law reference group and Sophia Adams Bhatti, director of legal and regulatory policy.
Adams Bhatti said: 'CoLin is designed to let people have a conversation, as if talking to a knowledgeable friend, and help them get the advice they need to solve their problem. [It] is able to generate letters, outlining in easy to understand ways the various steps in a legal process, reminding people when key deadlines are approaching, as well as organising information generated from the user into an electronic bundle for use by a client's advisor and the courts.
'While CoLin is only a proof of concept, it demonstrates the huge potential for this type of technology to improve access to justice.'
The runner up was Pinsent Masons, with MobiMapper, a case visualisation and argument mapper, which narrows the issues of a case into a single document that a litigant in person can bring to court.
Special prizes went to Cambridge University for the 'coolest' technology – ClaimR, an algorithmic decision tree that predicted case outcomes to 83% accuracy – to Just 2 of Us for the 'craziest idea', a tool to increase empathy in divorce proceedings, and the Gilbert and Tobin team who had flown in from Australia to participate; for best teamwork.
Get the latest in cyber regulation, guidance and emerging technologies affecting the legal sector at The Law Society conference: Legal services in a data driven world, 27 September.