Lawyers and staff returning to office life at international firm DLA Piper's Birmingham headquarters are enjoying a change of scene following the firm's move to the Paradise Birmingham development. New premises on the top two floors of 2 Chamberlain Square offer a 'fully flexible work space', the firm said.
The relocation was planned before the pandemic, which 'complicated' the move, Trevor Ivory, Birmingham managing partner, said. 'But it also challenged our assumptions and gave us the opportunity to think about what our clients and people will need from an office in future. The location is second to none and is a visible statement of our confidence in the region.'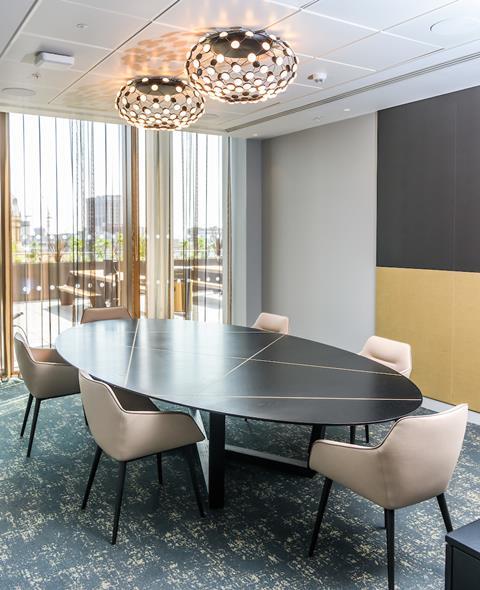 The state-of-the-art office building, designed by Birmingham-based Glenn Howells Architects is designed to the highest environmental standards. Design elements to reduce the carbon footprint include floor-to-ceiling glazing to limit the use of artificial lighting.
The interior, by fit out contractor Overbury, is 'a fully flexible work space, reflecting the post pandemic work culture of splitting time between home and office'. It features a 30-person boardroom, a dedicated client suite with private dining options and flexible conference facilities for 100 people, plus a stunning terrace with panoramic views of Birmingham.
The décor 'features planting throughout both floors and botanic tones reflecting Paradise's history in the city as medieval fields. There are also intricate gold and bronze accents on fretwork, lighting, curtains and carpets all designed to capture the work of Birmingham's Jewellery Quarter.'
Designer Fiona Sharp said: 'The work space provides unparalleled choice with a wide variety of work settings to suit each individual's needs from single focus rooms up to larger team huddle areas, and embraces hybrid working with departments clustered in neighbourhood groups.'
DLA Piper said it expects 'a gradual return of the team to the new office over the next few months'.