A law centre which received over 60,000 calls for help and one million hits on its website last year was on the verge of closure for the second time in a decade, the Gazette has learned.
South West London Law Centres faced potential insolvency and closure in 2008. In the centre's latest report, presented at the annual meeting last night, the centre's chair and chief executive said 2017 was equally troubled.
The chair and CEO's report states: 'Last year was a particularly difficult one for the law centre, as we struggled financially and were on the verge of facing closure again. The law centre took the difficult decision to downsize our operations in Kingston, our least profitable office. We are grateful for the temporary contract from Kingston Council which allowed us to co-locate with Kingston Churches Action on Housing whilst we searched for further funding to support our work in Kingston.'
The centre covers Wandsworth, Merton, Croydon, Kingston-upon-Thames, Richmond-upon-Thames and Sutton. The report states that the centre directly helped 8,098 people: 'The numbers contacting the law centre continue to grow as does the demand for our pro bono clinics, where we now have to turn people away as there are more than we can see.'
Last night's meeting was told that the centre received over 60,000 calls last year. Its website had 1,118,924 hits - nearly half visited pages relating to its pro bono clinics.
Highlighting future challenges, the meeting was told that the forthcoming closure of Wandsworth County Court will means cases have to go to Kingston or Clerkenwell county courts, resulting in longer journeys for clients who may not turn up.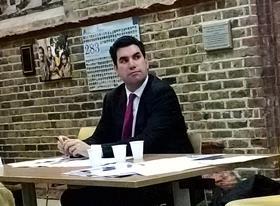 Meanwhile guest speaker Richard Burgon MP, the shadow justice secretary, reiterated his desire to see law centres become 'engines of empowerment' within communities.
Burgon told the meeting there will be 'two key announcements shortly in relation to legal aid to build on our announcements we have already made about family and housing law'. Burgon later indicated during a question and answer session that the announcements could be in relation to welfare benefits and tribunals.
Following last year's Supreme Court ruling on employment tribunal fees, Burgon said that although they may not be 'technically illegal', he thinks such fees are 'immoral', telling the meeting: 'Whatever level they are brought back at, a Labour government will abolish any employment tribunal fees returned by this government.'