The senior presiding judge ordered court cells to be closed when she deemed the temperature to be dangerous after the heating system packed up, crime solicitors have been told. Lady Justice Macur was highlighting examples of what she described as a 'scandalous' court estate in a keynote speech to the Criminal Law Solicitors' Association conference in Birmingham on Saturday.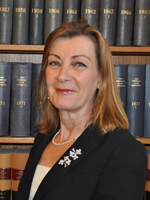 Macur, a Court of Appeal judge, told solicitors that there was 'commonality' among the concerns expressed to her by judges and concerns she had heard at Saturday's conference. She said: 'Of those common themes, the estate, scandalous in the main unless you're attending a PFI court building. Scandalous - court estate cells sometimes have no heating. When, on my instruction, they have been closed because of uncontrolled heat leading to such temperatures to cause me concerns as to the health and safety of those who inhabit them.'
Macur said people who come to court 'should expect to be inspired by the dignity of the courts'. Highlighting the dire state of the justice system, she said court staff and judges have been verbally and physically assaulted. The lack of resources means court staff are sometimes serving multiple courts at a time, ushers are running between public areas and serving a number of courts as other ushers fill the role of jury bailiffs. IT 'seems to be constantly failing'. On postal requisitions, Macur said there is an increased use in response to changes in pre-charge bail. There are continuing complaints about deficient IDPCs and the failure to supply sufficient initial details of the prosecution case. The Crown Prosecution Service is 'under-resourced' and the number of defence solicitors is 'dwindling', she continued. Prisons have 'inadequate conference facilities whether by visit or by video'.
Macur said: 'One of the things I want to do, not being able to anything about legal aid or the conditions you face daily by reason of your commitment or your calling, I want to tell you this - you are valued. The majority of judges and magistrates see the majority of solicitors abiding to the principle search for justice. It seems to me one of the things I can do in this keynote speech is to indicate to you the value with which you can be assured you're placed by members of the judiciary.'
Macur asked solicitors to remind themselves why they became a solicitor - possibly inspired by films such as 'To Kill a Mockingbird', 'Erin Brockovich' or 'Philadelphia'. She concluded: 'You are all colossal cogs in the system. You are cooperative, collaborative, conspicuously motivated by public service.'
Hours earlier, Lord Justice Leveson, president of the Queen's Bench Division, praised criminal defence solicitors. Speaking to members of the London Criminal Courts Solicitors' Association, which is celebrating its 70th anniversary, he said: 'Your role is critical in a fair and just society, to protect the interests of the accused. Those will not necessarily win you plaudits with the general public who do not always understand... In the media we are fed a diet of the worst sorts of crime, but you know the accused can vary - from a professional criminal to the vulnerable, disenfranchised, those with mental health problems in the system where they might be better off being diverted elsewhere.'