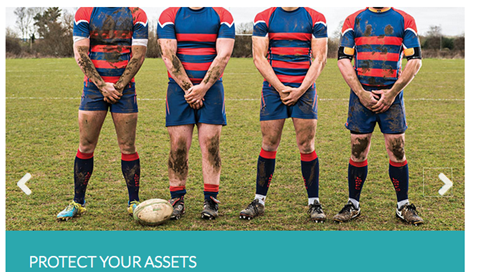 A firm's newspaper advertisement depicting ballerinas with their arms crossing their chests – with the tagline 'Protect your assets' – has been cleared by authorities.

The Advertising Standards Authority (ASA) found Dorset firm Humphries Kirk LLP was not in breach of rules concerning harm and offence.

One complainant had objected to the advertisement, which appeared in the Bournemouth Daily Echo in June, on the grounds it was sexist and objectified women, challenging whether it was offensive.

The family law firm stated that its intention was to cause a 'double take' and create a 'gentle innuendo' to depict the practice in a more human and approachable way. Another advertisement in the campaign featured male rugby players in an equivalent pose (pictured).

The advertisement itself showed just the torso of the four dancers, with the full text saying: 'Protect your assets… Our solicitors are on hand to give you expert advice about divorce, finances, prenups, property disputes and children issues'.

The firm said its advertisement did not contain any type of nudity or focus on the dancers' bodies in a sexual manner. It further argued the ballerinas were not shown in a demeaning, subservient or exploitative way, or use stereotypes, and that the people depicted were real dancers who had volunteered for the shoot.

The faces of the dancers were omitted, the firm explained, because they might be recognisable to local people and it wanted to preserve their anonymity and not detract from the 'essence of the image'.

The ASA stated: 'Humphries Kirk believed that a reasonable person would see the ad as light hearted rather than offensive, and they believed that the innuendo was neither vulgar nor degrading to women, and was linked with any sexual activity.

The Bournemouth Echo further stated the advert was 'demurely executed' and the presentation was respectful of women and the image used was acceptable.

'Whilst there was a slight edge to the wording used in that it could be considered as "laddish", they did not believe that it could be taken as offensive,' added the ASA.
The ASA agreed the dancers were not featured in a sexually suggestive or explicit pose, and the focus was on the balletic pose and the dance formation, rather than any specific part of their bodies.
Its ruling, published today, added: 'Although we acknowledged that some might find the reference to women's chests or breasts as 'assets' distasteful, we considered that the reference in the ad was not used in a salacious or lewd manner, but rather it was a mild innuendo.'
Given that the innuendo was light hearted, the advert was considered unlikely to cause serious or widespread offence and was cleared.