National firm Simpson Millar today signalled plans to cut at least one-fifth of its workforce as it continues to grapple with the after-effects of a disastrous buy-out by a Stock Exchange-quoted company.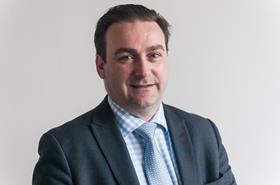 The firm announced today it would begin a restructuring of the business – and with it a redundancies consultation – following its parting with former owner Fairpoint Group.
Headcount at the firm is currently around 500, and it is expected that between 100 and 120 redundancies will be made, depending on the outcome of the consultation.
Bosses at the practice say changes are needed to put the business on a more stable footing following 'substantial under-investment' under previous owners.
Greg Cox (pictured), managing partner at Simpson Millar, said: 'It is never an easy decision to put members of the team at risk of redundancy. The business has been starved of investment over the last three years under its ownership by Fairpoint Group PLC, which has resulted in a fall in projected revenue for 2018.
'Addressing the current unsustainable cost base of the firm will deliver the sound financial platform necessary to grow and take full advantage of forthcoming changes in the consumer legal services market.'
Investment firm Doorway Capital has confirmed that it will provide an extra £2m to support the business in 2018. This is in addition to a £5m facility put in place earlier in 2017.
Mark Salem, director of Doorway Capital, said: 'As part of its necessary restructuring plan, it is our intention to provide Simpson Millar with the financial and strategic support needed to ensure it is best placed to grow and take advantage of future opportunities.'
Simpson Millar was already an established name in the legal profession when it was acquired by Fairpoint for a deal worth £15m in April 2014.
The firm grew quickly through further purchases but financial performance was worse than expected and Fairpoint's share price dropped sharply.
In March this year, bosses were warning of a 'year of transition', after starting to restructure the business, but in August Fairpoint entered administration saying it could no longer manage the £1m annual rent for the company's head office.