A prominent retired solicitor-judge has called for a separate legal aid fund to deal with political and human rights problems. His plea follows the furore over 'Isis bride' Shamima Begum potentially being granted legal aid to fight the government's decision to strip her of UK citizenship.
In a letter to the Times today, His Honour Judge Barrington Black says it is not the case that legal aid for Begum is wrong, 'for there can be little doubt that she is entitled to proper representation', but notes that she will 'leapfrog other proper calls upon limited funds'.
Black, who was admitted in 1956 and built a criminal defence practice in Leeds, calls for two legal aid funds to be set up. One would be overseen by the Ministry of Justice 'to provide a fair deal for the majority before the criminal, civil and matrimonial courts', and another by the Home Office 'for the escalation of political and human rights problems'.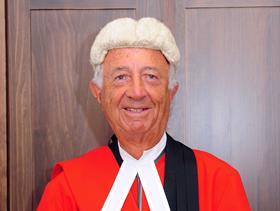 The topic of legal aid has dominated national news coverage following Begum's application.
Lord chancellor David Gauke has not commented publicly on the matter. His cabinet colleague Jeremy Hunt said he was 'uncomfortable' with Begum receiving legal aid, but added: 'We are a country that believes that people with limited means should have access to the resources of the state if they want to challenge the decisions the state has made about them.'
Defence secretary Gavin Williamson told ITV News: 'Quite frankly the British people don't like it, and quite simply neither do I. It is something people cannot see why she is getting legal aid when she turned her back on this country.'
The Law Society said the rule of law requires that a person must be able to challenge decisions made about them by the state.
Christina Blacklaws, president, said: 'This case will test a decision made by government about one individual and in doing so it should help clarify the law on deprivation of citizenship, which has implications for us all. It is in the public interest that both sides are represented by expert lawyers in such a complex case with far-reaching consequences so the court can reach a reasoned and just decision.'
The Young Legal Aid Lawyers group said in a statement that to make access to justice effective and equal, legal aid must be available to all, subject to an appropriate financial means test, irrespective of any crimes of which they are accused.
The group said it was particularly important in cases such as Begum's: 'Stripping a person of their citizenship is one of the most drastic steps that any government can take against its citizens. It is vital that a citizen has the right to challenge that decision in court, and that they should be granted public funding for legal representation where they are unable to afford it themselves.'