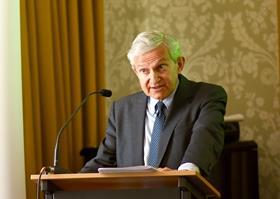 The 'vast bulk' of civil disputes are capable of being resolved online, the master of the rolls has said in the latest update of his plan for a connected ecosystem of digital dispute resolution systems. 'The online funnel for all civil, family and tribunal disputes is now in the course of creation,' Sir Geoffrey Vos said in a speech to the London School of Economics on the effect of Covid-19 on justice systems.
Cases from Online Civil Money Claims will shortly be dealt with in all county courts across the country, he said, and the new Damages Claims Online service launched on 28 May. 'In the next two years, online justice in England and Wales will become a reality for most common types of claim, whether they are damages claims, money claims, possession claims, employment tribunal claims or public or private family claims,' he said.
Sir Geoffrey noted that the civil courts had been quick to adopt new technology during the pandemic, especially in contrast to some neighbouring jurisdictions. Judges have been 'slightly surprised by the elemental technology that they are often using', he said: in one European country, commercial judges gathered round a single screen in an 18th century library, while in another court hearings had had to be postponed because of the legal requirement to change the air in any public space every 20 minutes.
However while video conferencing and electronic documentation save time and paper, such 'quite straightforward modern technology' does not change the process itself. Offering access to justice for all will require moving dispute resolution online - especially as 'many if not most disputes of the future will originate on the internet'. In the online dispute resolution process, decision trees will take the user directly towards the identification of the issue or the issues that divide the parties, and those that cannot be resolved immediately directed to judges 'in an asynchronous online process'.
'There is more work to be done, but once we have created the funnel made up of pre-action portals and online claims, I have the feeling that the answers to these questions will seem far more straightforward,' he said.
'The vast bulk of civil disputes, and possibly the vast bulk also of employment, tribunal and private family disputes are amenable to a streamlined online dispute resolution process,' he concluded. 'The speed of that process - even if there are still face-to-face hearings in the most difficult cases - will allow the parties to spend less time and emotional energy agonising over their disputes, and more time concentrating on their economic or personal lives.'