Accredited public and private websites will provide the front end of an integrated online civil justice system, under a scheme outlined by the master of the rolls last week. Sir Geoffrey Vos used a speech at London International Disputes Week to set out details of his proposed 'cohesive online funnel', through which civil, family and tribunals cases will be initiated as online procedures.
Building on his announcement earlier this year of a 'fundamental generational reform of the civil justice system', Vos said that in future, the vast majority of disputes would be resolved online. Such processes would rely on decision trees rather than pleadings and statements of case, and resolve issues as they are identified rather than through a 'staged trial event'. Alternative dispute resolution channels would be integrated throughout.
The master of the rolls noted that most court claims brought by small businesses and individuals are already due to be 'substantially online' by the end of the courts reform programme in 2023. However, a fully integrated online dispute resolution process would need to look beyond the courts service. This would involve integrating some 30 or 40 online gateways, ranging from the Financial Ombudsman Service's existing website to the new whiplash portal, and the SME dispute resolution portal being developed by the LawtechUK initiative.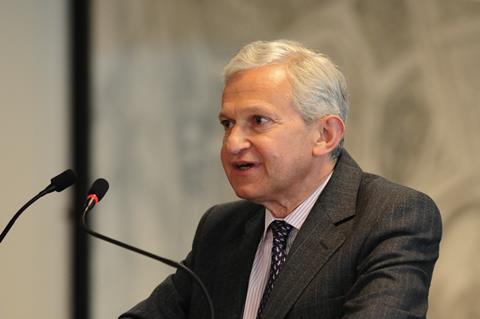 'My vision of the future builds on the existing market providing effective pre-court dispute resolution,' he said. 'We should try to make the most of what is good about the existing systems, but provide what is lacking, which is cohesion and integration.'
These will be achieved by regulation, he suggested, proposing a 'blue tick' process of accreditation. Accredited 'front-end portals' would have to show that they offer fair processes and allow for 'integrated ADR interventions designed to bring about consensual resolution'.
Most crucially, each portal would produce a standard data-set about each case in a form that would feed directly into the online system 'if, as will happen hopefully infrequently, the case was not settled in the front-end process'. The patchwork of blue-ticked portals would create what Vos called 'the ultimate front end, a website to which anyone or any lawyer with any kind of dispute could go'.
Vos did not suggest who might award the blue tick or what the standard dataset at each stage of the online court service might include. However, HM Courts & Tribunals Service is understood to be building up its data team, with a new Data Access Panel headed by a former senior figure at the UK Statistics Authority.
One challenge the panel faces is how to manage the publication of judgments: the Gazette revealed last week that the panel is working with the National Archives on a project to create a hub of judgments, including those from the multi-faceted online court. This would be a commercially valuable dataset – as well as a potentially sensitive one.