The Windrush scandal shows that a certain number of lawyers are needed in any ecosystem to keep the question of legality in people's minds, Labour MP and solicitor Harriet Harman, chair of the joint committee on human rights, has said.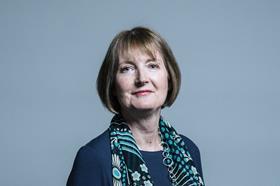 Harman, who qualified as a solicitor and worked at Brent Law Centre in 1974, came to the defence of the profession at the latest meeting of the all-party parliamentary group on legal aid yesterday.
Harman told the meeting that her committee, which reported on the impact of legal aid cuts on enforcing human rights in July, examined the case files of two citizens of the so-called Windrush generation who had been detained twice. The committee expected to see in their files that certain information had not been provided. But, Harman said, 'right from the first bit of paper on the file there was lots of evidence that they were entitled to be here'.
Highlighting a steep decline in the number of non-asylum immigration claims handled by the goverment since 2009, Harman said 'it's not just about those individuals, it's also about keeping the system honest. You need a certain amount of lawyers buzzing around in any ecosystem.'
She added: 'There's an argument that we should not have too many lawyers around, but actually you need a certain amount of lawyers in any sphere to keep the issue of legal probity there. We have got a depleted legal ecosystem which not only undermines the rights of individuals but also contributes to systemic dysfunction.'
In 1979, 77% of the population was eligible for civil legal aid, a figure that has since dropped to 25%. Harman attributed the decline partly to 'a drumbeat of the de-legitimisation of claimants and claimants' lawyers'. She acknowledged that 'not everyone who qualifies as a lawyer is a saint, not all QCs are total value for money for the public purse - but that has become an overwhelmingly universal narrative'.
Another problem lies with the machinery of government, Harman added. Over the years, she said, the role of lord chancellor has become a 'starter job for someone getting into the cabinet'. She has noticed 'an inability within cabinet for the secretary of state for justice to fight their corner in difficult times because they're such a junior member of the cabinet.'
Harman also highlighted the importance of ensuring an equality of arms in terms of legal representation at inquests and public inquiries, recalling the inquest into the 2009 fire at Lakanal House in the London borough of Southwark. The fire brigade, ambulance, police and council had QCs and lawyers, Harman said, 'but the people who were in the neighbouring block, who had to watch their neighbours' children in body bags, and put their own children to bed every night in identical blocks... they had no legal aid, no financial support for legal representation. It's the most egregious thing - to sit in the public session of a coroner's inquest and hear safety issues talked about...and they had no voice'.
Harman suggested that public bodies should tithe 10% of what they would pay to lawyers for legal representation at an inquest or inquiry towards helping unrepresented families.