Under the Wig: A Lawyer's Stories of Murder, Guilt and Innocence
William Clegg
£8.99, Quercus
★★★★✩
Have you ever wondered what happens in a barristers' chambers, or what it is like to defend a murderer? William Clegg QC has defended some people accused of the most notorious crimes, including Colin Stagg, and the man accused of killing Jill Dando. He has also acted in two war crimes trials and an International Criminal Court case. He has been involved in more than 100 murders. Some of his clients were charming, some loners, and others really scary. Reading these various accounts of trials, it is shocking the number of people still convicted on the flimsiest of evidence.
Clegg did not come from the traditional Oxbridge route. He seemed to have scraped through his education but despite that his career has been impressive. He became interested in the law having watched Perry Mason on television which dates him a bit.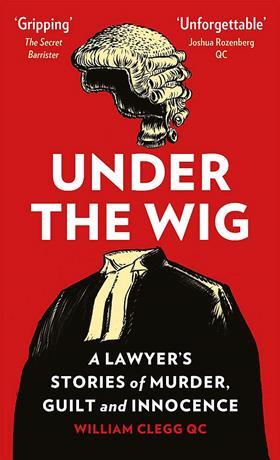 This book is written mainly for a non-legal readership but there is much of interest to us. He describes how he prepares for a case, which always begins by concentrating on the prosecution case and not the defence case. He goes to great lengths to build a rapport with a client and always visits the scene of the crime.
He looks back on a career of more than 40 years at the bar and highlights the positive impact of the Police and Criminal Evidence Act. He also recalls the days when lawyers would bribe journalists to buy a cup of coffee when their publicity shy client was in the dock.
He writes well about the camaraderie of the criminal bar and the kindness of the profession, as well as the informal networks for supporting colleagues. He also describes a profession in crisis following the impact of legal aid cuts. One wonders if there will be much of a criminal bar in years to come.
Clegg offers a guide on how to take silk, what being a (part-time) judge is like, and how to appeal to a jury; and even what to do if an official brings a sword into court. You will have to buy the book to find out what that is about! I found it interesting what he says about what goes on in chambers and how a modern set is run.
There is a story of a clerk in court who asked a defendant his name. 'F**kwit', came the reply. The judge whispered to the clerk and the official proceeded to say, 'Stand up F**kwit, now Mr F**kwit you are charged with this offence, how do you plead?' Priceless.
David Pickup is a partner at Pickup & Scott Solicitors, Aylesbur
Would you be interested in writing a book review for the Law Society Gazette? The Gazette receives books on a range of legal specialisms, as well as fiction, history and biography. If you are interested please write to Nicholas Goodman indicating your specialism.