Contract Law: A Comparative Introduction (3rd edition)
Jan M. Smits
£120, Edward Elgar Publishing
★★★★✩
This accessible, practical and well-written book compares and introduces principles of contract law from common law and civil legal systems. It focuses on English, German, French and Dutch law, at October 2020 (that is, after the UK left the EU on 31 January 2020). It will not equip you to advise on any of these laws. But it does give an insight into the likely expectations and assumptions of other parties in a cross-border transaction, or of an overseas judge or arbitrator in a dispute.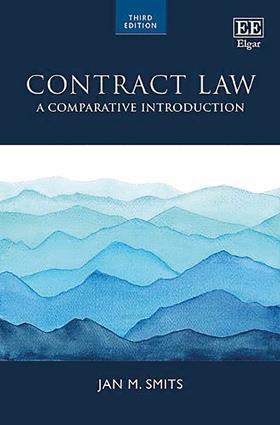 Another benefit of this book for practising English lawyers is its clear, concise explanations of the principles underlying English contract law. Many of us, who were taught the details of our law but not its commercial function, will find these principles novel and helpful, making sense of an otherwise confusing maze of provisions. For example, I have rarely seen the difference between fraudulent, negligent and innocent representation explained as well.
The book's contents are organised not by the nature or origin of the rights, but by their function in meeting the parties' commercial needs. For example, the author compares the effect of s.9 Consumer Rights Act 2015 and s.14 Sale of Goods Act 1979 to that of pre-contract disclosure duties in civil law systems. A practising lawyer may find the following sections the most interesting:
the contents of the contract, including good faith and remedies for unfair conduct (Part 3);
vitiating factors (part 4);
remedies (part 5); and
the effect of contracts on third parties (part 6).
Organised this way, it was striking to see how these legal systems mostly achieved similar results through different mechanisms. And I was startled by the few great differences, especially in relation to force majeure, pre-contract duties, revoking an offer, and good faith. I thought English contract law had gone a long way towards establishing duties of good faith, until I saw what good faith as a general organising principle might mean to a civil lawyer.
Unusually for a student textbook, I found this book impressively clear and readable, not academic or abstract in its approach but tied at every point to examples in English and civil law.
Daphne Perry is an ex-lawyer and a consultant, writer and trainer on plain English for law and business